Rodman & Renshaw Capital Group, Inc. provides investment banking services to public and private companies focusing on recurring-capital need sectors that include life science and healthcare, energy, metals and mining, financial services, and cleantech in the United States and China. Rodman offers corporate financing that includes private placements, private investments in public equity (PIPE), registered direct offerings, and underwritten public offerings. The company also provides strategic advisory services on a range of transactions comprising mergers, acquisitions, and asset sales, as well as provides sales and trading, and equity research services. Rodman also designs investment conferences that bring together companies, institutional investors, business development executives, and experts, adding a unique revenue stream that sets them apart from other investment banks. Further, the company makes principal investments in early-stage biotechnology and life sciences companies, including Huxley Pharmaceuticals, Inc., a privately held company that was acquired in 2009 for $16M by BioMarin Pharmaceutical Inc. In addition, Huxley shareholders, including Rodman, are eligible to receive up to $36 million in milestone payments if certain U.S. sales and development milestones are met in the future.
Earlier this week, Cell Theraputics announced a public offering of $21M in which Rodman was to be the exclusive placement agent. The news represents just one of many deals Rodman has been fiercely competing for - and then landing - that has brought investment banking revenues up 73% from $52.5M in 2008 to $90.4 in 2009. The robust growth wasn't exclusive to the IB division, though; total revenue from 2008 to 2009 was up 167% from $49.2M to $132.2M. We took a deeper look. In 2007, Rodman underwrote its own equity offering (an advantage of being a broker-dealer and investment bank in and of itself?) and raised $36.3 to fund two strategic acquisitions, a number of investments, and partnerships formed through wholly-owned subsidiaries that gave them exposure to new industries and clients. Fast forward two and half years through one of the worst financial crises' our country has ever seen to date, and you'll find Rodman, a boutique investment and merchant banking firm that has not only strengthened through eliminating debt and maximizing revenues , but is actually repurchasing shares and officially pulling its recent shelf offering. On May 25th, 2010, Rodman CEO Edward Rubin announced a stock buy-back plan, funded by working capital, and had this to say: "We believe that our shares are significantly undervalued at current levels, making a stock buy-back an attractive investment opportunity that will benefit Rodman and our stockholders." Just prior to that release a few weeks earlier, Rodman cited sufficient liquidity and minimal credit risk as the primary reason for withdrawing a shelf offering it had extended in 2009 in the face of capital market uncertainty, sending shares up 4% that day.
While Rodman operates in one of the worst economic climates the world has ever seen in an industry that is rife with controversy, uncertainty, and heavy regulation, the company has demonstrated incredible all around resiliency. By leveraging client relationships, experienced professional management with deep knowledge and broad skills, and a consistent fundamental strength in operations, Rodman is on our watch list. 
First Quarter 2010 and Fiscal 2009 Annual Report Highlights Include:
In 2009, Rodman completed 102 financing transactions which raised in excess of $2.5B and generated in excess of $90.4M of investment banking revenues. In addition, the company is recognized industry leader in PIPE and RD financing transactions.
Total revenues for 2009 totaled $132.2M versus $49.2M in 2008, while total operating expenses for 2009 were only $90.1M versus $80.1M in 2008. For the first quarter 2010, total revenues were $27.7M versus $5.8M in the 2009 period.
Net income for fiscal 2009 was $27.3M versus a loss of ($37.4M) for 2008. Basic earnings per share year-over-year were $.77 and ($1.12), respectively. At the current stock price of $3.47, the company is currently trading at a mere multiple of 4.5, while net income for the first quarter 2010 was $2.1M compared with a net loss of ($12.2M) in the 2009 period.
Gross margins were 68% for fiscal 2009 and 86% for the first quarter 2010. Unrestricted cash and cash equivalents were $23.1M for the first quarter 2010, an increase of $10.5M from $12.6M quarter-over quarter. As of March 31st, 2010, Rodman had 127 high performing employees, boasting the highest revenue-per-employee rate in the industry by generating over $1M each.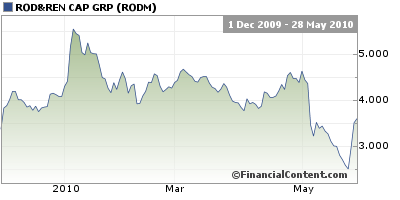 Disclosure:
no positions