Jones Soda (NASDAQ:
JSDA
) is trading at 2.14, up .26 or 13.89%. Less than a week after Jones Soda signed a deal with Wal-Mart to have the soda company's product distributed in its stores, shares in Jones keep percolating. In Tuesday trading, shares in Jones Soda jumped more than 80%, rising 84 cents to close at $1.88. More than 13.2 million shares traded hands, compared with an average day when only 635,000 are traded. On May 26th, one day before the Walmart deal was announced, shares in Jones Soda were trading at less than 70 cents per share.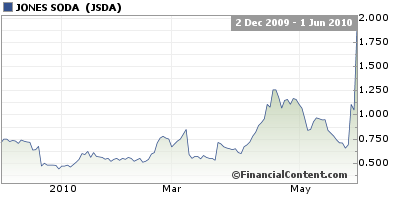 Ediets.com Inc. (NASDAQ:
DIET
) is currently trading at .789, up .039 or 5.20%. The stock is trading at a volume of 1,000 shares, with a $27 Million MarketCap. This company is a leading provider of convenient at-home diet, fitness, and healthy lifestyle solutions. It released its quarterly financial data on May 25th, showing a decrease in net income from ($3,286) for the 3 months ended Dec. 31, 2009, to ($3,759) for the 3 months ended March 31, 2010. Kevin McGrath, the company's President and CEO, and Tom Hoyer, the CFO, will present at the Noble Financial Equity Conference to be held at June 7-8, 2010, and will continue to present at the Imperial Capital Consumer Summit on June 10th.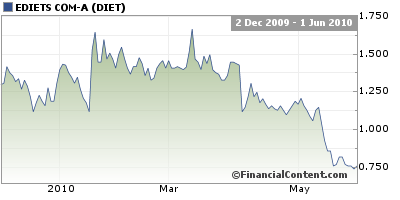 Disclosure:
no positions