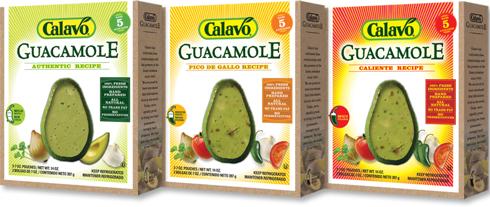 Founded in 1924, Calavo Growers, Inc. is the worldwide leader in the procurement and marketing of fresh avocados. Calavo's core product is avocados. Historically, most of its avocados were grown in California, but in recent years it has been diversifying its types of products and their sources in a bid to maintain high growth. Today, the company sells avocados, papayas, tomatoes, mushrooms, pineapples, and processed guacamole, with products grown throughout North and South America. Despite the diversification, fresh avocados are still the company's mainstay, accounting for about 75% of sales. Calavo's expertise in marketing and distributing fresh and prepared avocados and other perishable products enables it to serve food distributors, produce wholesalers, supermarkets, and restaurants on a global basis.
Calavo Growers, Inc. (NASDAQ:
CVGW
) is currently trading at 17.44, up 1.69 or 10.73%. Today, this global leader in avocado marketing and expanding provider of other perishable produce items reported record operating results for its fiscal 2010 second quarter. Revenues and net income advanced to their highest single-period totals in company history, principally on the strength of increased sales of fresh avocados and other diversified commodity produce items, as well as top-line growth in its Calavo Foods business segment.
Highlights include:
SG&A expense of $5.5 million in the most recent quarter was unchanged from the second period of fiscal 2009, even while supporting an additional $22.4 million in revenues.
Revenues rise 26% to $109.2 Million from $86.8 Million one year earlier (new single-quarter high).
Net Income increases 7% to record $4.8 million from $4.5 million in the same period last year.
Chairman, President, and CEO Lee E. Cole commented, "Calavo turns the corner into the balance of fiscal 2010 in a highly enviable position. We intend to capitalize on our market leadership, formidable infrastructure and financial strength to continue building upon our track record of success."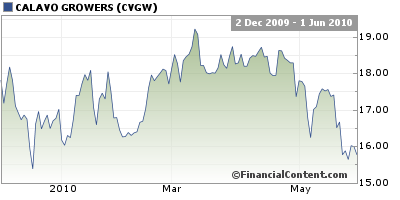 Disclosure:
no positions