Freestone Resources, Inc. (OTCBB:
FSNR
) is currently trading at .59, up .19 or 47.50%. Freestone is a Dallas, Texas-based oil and gas technology development company. The continuing goal of the company is to develop new technologies that allow fro the utilization of their vast resources in an environmentally responsible and cost effective way. On Wednesday, May 19th, Freestone Resources, Inc. sent Clayton Carter, President and CEO, and Michael McGhan, corporate Advisor, traveled to New Orleans to demonstrate the company's EncapSol product. They demonstrated how this product can be used in the current oil spill crisis in the Gulf of Mexico to various companies involved in the cleanup effort. EncapSol can encapsulate the hydrocarbon (oil) pollution so that it cannot contaminate the environment. The oil can then be recovered safely and efficiently through a simple vacuum process. The oil industry can now utilize Freestone's EncapSol for major oil spills to ensure that animal, plant, and fish life stay safe from oil contamination.
When oil is spilled, the first response is to contain the spill, and then pay for the bulldozing of all oil-contaminated materials to be disposed of in a toxic landfill. Then the landfill uses steam-washing and detergent-washing clean-up methods that can produce more oil- contaminated materials and toxic waste water than the original oil spill itself. EncapSOl can turn this toxic liability into a profitable asset by extracting the oil from the oil spill or sludge pit for re-sale, while only leaving behind clean soil and agricultural grade water. With this product, the cost of environment clean-up can be partially if not fully paid for by the value of the oil recovered by the EncapSol process.
Today, Freestone Resources, Inc. announced that is has signed a binding Letter of Intent with Santa Barbara-based WestPac Resources, LLC last week while in New Orleans. WestPac Resources is a company dedicated to environmental cleanup of first response oil spill efforts, green energy, and the promotion of oil recovery. This Letter of Intent creates a Joint Venture Company between Freestone and WestPac that will utilize Freestone's EncapSol technology, as well as provide the capital needed to expand Freestone's oil and gas operations.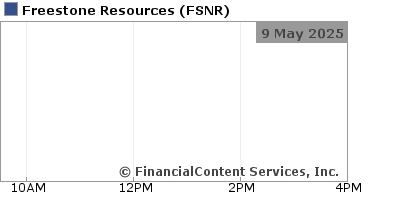 "We are very excited to begin working with WestPac Resources," said Clayton Carter, CEO of Freestone Resources. "WestPac has the capital resources and relationships necessary to expand the utilization of our EncapSol technology, and in the development of our conventional oil and gas operations. We are proud to form a business relationship with a company that has placed themselves on the frontlines of the oil disaster in the Gulf of Mexico. We believe that they are working with some of the most advanced oil and water separation equipment in the industry. Their knowledge and resources will be invaluable in the advancement of our EncapSol technology."
Disclosure:
no positions