Founded in 1990, Jamba Juice is a leading retailer of better-for-you food and beverage offerings, including fruit smoothies, juices, and teas, hot oatmeal made with organic steel cut oats, wraps, salads, sandwiches, and California Flatbreads, and a variety of other baked goods and snacks. The new store openings announced today are the result of an inked contract between Jamba and partner SPC Group, a global bakery and franchise operator, to open 200 new franchise locations in South Korea over the next 10 years. The news comes on the heels of other recent developments released by Jamba that includes new product offerings like the Five Fruit Frenzy, a product created on the heels of a healthy eating initiative partnership with the National PTA and first quarter earnings that sliced the net loss from the previous year in half.

As of April 20, 2010, Jamba Juice had 745 locations consisting of 458 company-owned and operated stores and 287 franchise stores. Add to these figures an additional 200 new locations, and over the next ten years Jamba Juice will see new store growth of about 28%, or at least 2% each year. Using those same simple calculations, once all the stores are complete and operational, revenue should increase from $80.4M to at least $102.6M in 10 years. 
During the first quarter earnings release on May 26th, the company gave guidance for the rest of 2010 including 15-17% margins in EBITDA and a plan to reduce expenses by 10-12%. If Jamba can complete the first leg of the agreement this year of 40 new stores, using the modest end of their expectations, I project their net income at approximately $6M, or $.11 per share by first quarter 2011. In comparison with a current reported net loss of ($7M), or ($.13) per share.

Of course, there will be challenges that are out of management's hands at Jamba Juice. First of all, we're talking about South Korea as the targeted market for this expansion, so we must immediately consider their challenges and perhaps more broadly the challenges of Korea itself. The country is rife with controversy, with the rapidly deteriorating civil relationship between the North and South regions. Weakening trade and violent threats between the two regions aside, the country has been criticized for years by the national community for ambiguous government regulation and palpable abusive treatment of their domestic labor market. 
As these crisis' could easily (and are widely expected) to escalate, Jamba Juice along with many other companies interested in globally expanding their footprint in this Asian country could likely find themselves facing serious adversities and setbacks as they execute their plans. The good news is that historically, economic growth in Korea before and after recessions has flourished in unprecedented ways; with government led stimulus injections in the wake of the global slowdown of 2001, Korea logged a 7.0% growth rate in 2002, although those levels have been steadily falling in recent years, bottoming out at just .2% in 2009.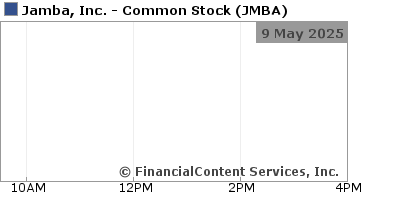 To view this article at World Market Media click on the link below: http://www.worldmarketmedia.com/779/section.aspx/1734/post/jamba-nasdaq-jmba-134m-marketcap-200-new-stores-the-challenges-and-payoff
Disclosure:
no positions