Provectus Pharmaceuticals specializes in developing oncology and dermatology therapies. Its lead oncology agent, PV-10, is designed to selectively target and destroy cancer cells without harming surrounding healthy tissue. This results in a significant reduction potential for systemic side effects, and its oncology focus is on melanoma, breast cancer, and metastatic liver cancer.
Today, the company has announced additional positive data from its Phase 2 clinical trial of PV-10 for metastatic melanoma. On June 6, 2010, Dr. Sanjiv Agarwala presented the data at the American Society of Clinical Oncology 2010 annual meeting. Key conclusions from the presentation were that:
A majority of subjects exhibited a robust response in their injected lesions;
Response appeared to be unrelated to disease stage or prior treatment history;
Locoregional treatment with PV-10 may elicit systemic benefit in untreated visceral lesions;  and
The overall safety and efficacy profile of PV-10 compares favorably with available and emerging options for metastatic melanoma patients.
Provectus expects to announce complete final study results at Melanoma 2010 in Sydney, Australia, November 4-7, 2010.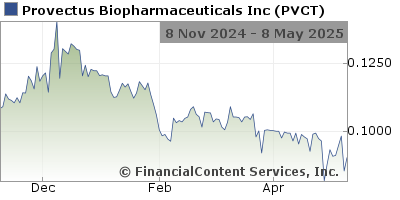 Craig Dees, PhD, CEO of Provectus said, "The additional information that Dr. Agarwala presented at ASCO is very exciting and meaningful, underscoring the importance of immunology in the fight against cancer, and the potential that PV-10 has in battling the disease.  This new information deepens our confidence that PV-10 will be a viable treatment for metastatic melanoma, and that its immunological potential is significant.
Disclosure:
no positions