A specialty beverage and food line company has found a compatible platform in which to channel its natural, non-alcoholic and New Age beverages, candies, and ice creams to consumers.

The Fresh and Easy Neighborhood Market serves as the new partner in the deal that is expected to place the Reed's and Virgil soda line in 157 locations in California, Texas, and Arizona. Reed's products are currently selling in over 10,500 natural food markets and supermarkets nationwide. Its six award-winning non-alcoholic Ginger Brews are unique in the beverage industry, being brewed, not manufactured and using fresh ginger, spices and fruits in a brewing process that predates commercial soft drinks. The company owns the top selling root beer line in natural foods, the Virgil's Root Beer product line, and the top selling cola line in natural foods, the China Cola product line, and has recently introduced a new line of nausea-relief products and acquired a sparkling juice celebration drink line. 
Fresh and Easy is a good fit, says Christopher Reed, chief executive officer of Reed's. "Fresh & Easy is a true innovator, providing the highest quality, freshest food to neighborhoods in the Western U.S. with stores that are about a third of the size of the average U.S. supermarket," said Mr. Reed. The supermarkets size and scalability has allowed them to use 30% less energy than a typical supermarket – helping the environment and customers save money. All Fresh & Easy brand products contain no artificial colors, flavors or added trans fats and use preservatives only when necessary.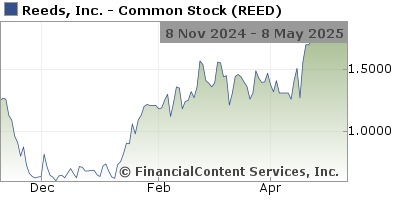 Disclosure:
no positions