The military community has a mounting challenge: how to ingest and process the rapidly increasing volumes of live video and other data streaming from sensors in the sky and on the ground. Given the exponential growth in platforms and sensors and the resulting volume of data, the military is heavily relying on platforms like the IceWEB 5000, a product of IceWEB, Inc., to provide unified access and compression to meet this increased need for performance and scalability. IceWeb, Inc. manufactures and markets data storage products, network and cloud storage solutions, and delivers on-line cloud computing application services.
Today, IceWEB, Inc. (OTCBB:
IWEB
) announced that IceWeb Channel Partner (
ICP
), VideoBank, has secured an additional contract with the Federal Government. For more than a decade, VideoBank has revolutionized the ways in which educational institutions, medical facilities, government organizations, entertainment companies, and the U.S. military have archived, manage, and distributed their products and services worldwide. IceWEB's high performance computing storage solution offers unique capabilities for maximizing performance and integration into video streaming environments. The 5000 has the ability to support both file and block protocols and support 10GB Ethernet, Fibre Channel technology, making it the ideal solution for unstructured data-intensive environments. This additional contract indicates the Federal Government's confidence and reliability on the IceWEB 5000.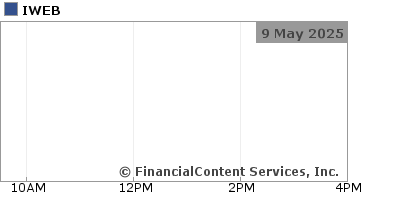 "The value of geospatial information cannot be overstated," said Mr. John R. Signorello, CEO of IceWEB, "A real time view of an ever changing world when analyzed, provides critical on-demand insight into video data that is not available from simple data inputs. It is the expertise of our Federal Channel Partner, VideoBank, and its success in satisfying Federal Government agencies demanding requirements that allow IceWEB to build out our digital footprint for the future. The key to long term scalability is to leverage multiple channel partners with a broad range of vertical skill sets."
To view this article at World Market Media click on the link below: http://www.worldmarketmedia.com/779/section.aspx/1813/post/iceweb-inc-otcbb-iweb-22m-marketcap-lands-additional-contract-with-the-federal-government
Disclosure:
no positions