Jones Soda, a leader in the premium soda category markets distributing beverages under its brand name through a network of traditional retailer markets primarily across the U.S. Jones is popularly known for a unique label that features ever-changing photos gathered from fans. Today the company announced they had entered an equity financing facility agreement that Jones can exercise (but is not obliged to) by selling up to $10M worth of shares to the Glengrove Small Cap Value fund family. The 70,053 shares that would be sold if and when Jones executed the agreement are registered to a shelf offering Jones had declared with the SEC on May 18th, 2010. The details of the deal show that the shares would be sold in batches; the number of which during each draw would be determined by a contractual formula, whereby Jones would issue shares to Glengrove at a pre-negotiated discount to the daily volume weighted average price of the company's common stock over a preceding period of trading days.

Jones Soda intends to use the proceeds from any sale of securities under the facility for targeted funding for new marketing programs, to secure and grow larger distributor and national retail accounts, and for working capital and other general corporate purposes.

The financing comes at a time when Jones' management is becoming more optimistic and confident in the company's future after a botched expansion in 2007 that has left the formerly profitable company struggling ever since and an early 2010 acquisition attempt by Reed's Soda that valued Jones at about half of the prevailing share price value of the time. Shortly after a letter of intent was signed with Reeds, Jones elected to break the exclusivity of the contract (and pay Reeds up to $75K for out-of-pocket expenses in the process) after the company received another bid from an unnamed third party, which is currently being investigated and considered by the board. The Reeds' bid valued the company at $9.8M, while a bid in December 2009 from Bid Red Holdings of Texas valued the company at $7.9. Time will tell what details this new, third party bid values the company at.

Shares of Jones are trading up $.05, or about 3% at $1.82 per share on light volume.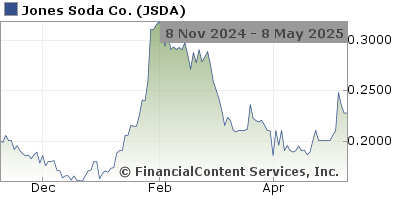 To view this article at World Market Media click on the link below: http://www.worldmarketmedia.com/779/section.aspx/1826/post/jones-soda-co-nasdaq-jsda-48m-marketcap-secures-10m
Disclosure:
no positions