While CTI Industries may not be operating in the most exciting industries in the world, they're a fundamental analyst's dream – solid, climbing revenues, a proprietary product that experiences steady demand and cash flow profits so strong it warrants a cash reward for its shareholders. CTI Industries is a manufacturer and marketer of novelty balloons, printed and laminated films and flexible packaging and storage products. Spanning 34 years, the company has acquired significant technology and know-how that's translated into 11 patents being rewarded and 4 more in the pipeline for flexible film products with specific applications that include zipper closures and valves as seen in the ubiquitous ZipLock products sold by S.C. Johnson and Son. The company also makes novelty latex and foil balloons that are sold in the Dollar Tree stores, contributing nearly 48% of 2009's annual sales of more than $41M.

Other 2009 highlights included net income of about $1M, or $.36 per share, and an increase in working capital of almost $1M, totaling $2.3M compared with $1.4M for the previous year. During the year, cash provided by operations amounted to about $3.1M compares with only $.4M in 2008 by controlling inventories and reducing accounts receivable. CTI Industries elected to pay down long-term debt in 2009 that totaled about $1.2M and reduce credit lines.

The $.05 dividend that has been declared for shareholders on record by June 18th, 2010 will be paid on or around June 28th, 2010. Based on the amount of outstanding shares today, the dividend will use about $138K of cash and still allow the company to stay on strong financial footing.

Stephen M. Merrick, Chief Financial Officer of the Company, stated, "Based upon CTI achieving consistent profitability over a period of almost three years, and in light of the Company's financial condition, the Board of Directors has determined to declare the first ever cash dividend to be paid to its shareholders, and to consider the declaration of dividends on semi-annual basis in the future."

The declaration of future dividends will be determined by the Board of Directors from time to time taking into account the results of operation, financial condition and financial commitments of the Company as well as such
other factors as the Board deems appropriate. The timing and amount of any future dividends will be determined by the Board of Directors, in their sole discretion, from time to time.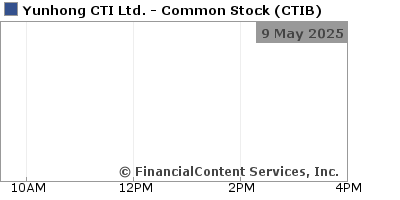 To view this article at World Market Media click on the link below: http://www.worldmarketmedia.com/779/section.aspx/1830/post/cti-industries-corporation-nasdaq-ctib-18m-marketcap-declares-dividend
Disclosure:
no positions