MicroCap
AISystems, Inc. (OTCBB: ASYI) is currently trading at a 52 week high of $0.50, up $.12 or 31.58%. The company hasn't released information since June 7th, when it announced its revolutionary crew scheduling and rostering technology will be released in 2011. This technology allows airlines to create crew schedules and rosters in minutes, something that can currently take a several days to accomplish. Furthermore, this technology permits scheduling changes that are guaranteed to not adversely impact the efficiency of the schedule plan.

 

Hot Topic Inc. (NASDAQ: HOTT) is trading at $5.53, up $0.20 or 3.75%. The teen clothing retailer on Wednesday said it does not expect to meet its fiscal 2010 operating income targets, and that its chief executive elected to cancel certain stock award units.

NanoCap
MagneGas Corporation (OTCBB: MNGA) is currently trading at $0.095, up $0.015 or 18.75%. Yesterday, the company announced that its construction of China MagneGas' 200kw Plasma Arc FlowTM Refinery is on schedule and nearing completion. The company expects inspection of the unit in person to occur in July, and make its final payment of $950,000 by no later than August 31, 2010.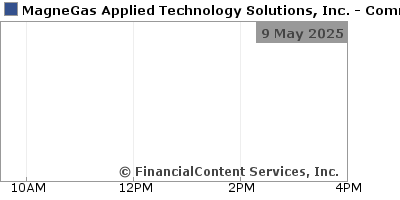 Money4Gold Holdings (OTCBB:
MFGD
) is trading at $0.118, up $0.008 or 7.27%. On June 15
th
, the company announced its name change to Upstream Worldwide Inc. This name change reflects Money4Gold's expansion into direct-from-consumer reverse logistics recycling of consumer electronics. 
To view this article at World Market Media click on the link below: http://www.worldmarketmedia.com/779/section.aspx/1874/post/wmm-micro-and-nanocap-index-movers-nasdaq-hott-otcbb-asyi-mnga-mfgd
Disclosure:
no positions