Lantronix, Inc. (NASDAQ: LTRX) is a provider of secure, remote device networking and data center management technologies. Its solutions empower businesses to make better decisions based on real-time information, and gain a competitive advantage by generating new revenue streams, improving productivity and increasing efficiency and profitability.
 
Today, the company announced the availability of MatchPort NR, the newest addition to its popular MatchPort family of device servers. MatchPort NR is the 4th member of the MatchPort product family of pin/form factor-compatible wireless and wired device networking platforms. It enables OEMS to implement an Ethernet networking solution within their products through a reliable and industry-proven solution to match their price and performance requirements. With a simple connection between the device micocontroller's serial port and one of MacthPort NR's two serial ports, OEMs can create feature-rich applications, all while saving on design costs and enabling faster time-to-market. Additionally, its extra inputs and outputs enable MatchPort NR to accommodate the demanding application requirements found in medical equipment, security, retail, manufacturing, building automation, smart metering, and slot machines.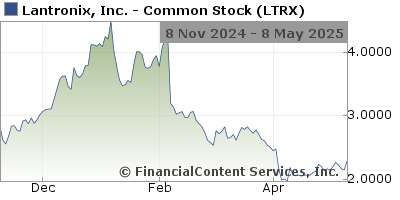 "Having a pin-compatible family of embedded products allows our customers to easily interchange a wired or wireless solution that significantly shortens development time and reduces risk of developing robust and secure Ethernet connectivity," said Paul Pishal, vice president of product marketing at Lantronix. "OEMs need a solution enabling easy design, guaranteed to be compatible with industry standards and affordable. The MatchPort family provides ultimate design flexibility with a choice of media-independent 802.11 b/g or Ethernet networking modules. It takes the complexity out of RF design and embedded Ethernet networking so you can focus on designing your products."


 
To view this article at World Market Media click on the link below: http://www.worldmarketmedia.com/779/section.aspx/1875/post/lantronix-inc-nasdaq-ltrx-48m-marketcap-unveils-the-matchport-nr
Disclosure:
no positions