Unthinkable natural disasters, security breaches, and terrorist attacks have revealed vulnerability in the way that the public and private sectors handle and respond to emergencies. While technological advancements have improved efficiency and productivity, and created new possibilities for every aspect of our work life, the security sector and the emergency response methods and systems have remained virtually unchanged for decades. Sector 10, Inc. (OTCBB: SECI) formed with the mission to change that. Through conducting a complex analysis of global disasters and the limitations of existing response systems, Sector 10 has developed revolutionary information technology, communication, crisis management, monitoring systems, and highly effective emergency response control units that bring first aid and safety to unprecedented heights. Sector 10, Inc. is redefining the emergency response paradigm from centralized equipment staging to onsite pre-deployed resources. It is currently the only emergency response systems company that strongly emphasizes pre-deployed resources as the way to save lives, avert injuries, reduce liability, and to "Bridge the Survival Gap".
Today, the company announced that it had received inquiries from international advertising companies interested in its Stationary Response Unit-Media Unit (SRU-M) products for international applications. Following this announcement, Sector 10 is currently trading at $0.074, up $0.0189 or 34.30%. The SRU-M is a product that can deploy equipment to aid up to 200 people during a Terror evacuation, natural disaster, or man-made incidents. The SRU-M can be located in a subway, airport, mall, expo-center, or anywhere people congregate in large numbers. With this product, the individual consumer will benefit from both the advertising stream and the life safety equipment it deploys.

Tour the SRU-M Demonstration Here

 
Company CEO Pericles DeAvila stated that he was confident that as more SRU-M's get deployed, the cost/benefit to the advertiser will be apparent with enhanced consumer participation and increased retention of displayed information. The success of the product will be driven by current public safety needs and the consumer's personal safety and self interest.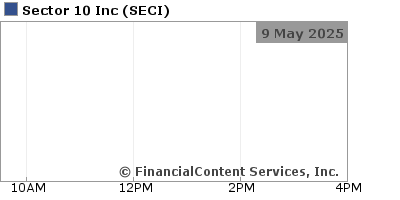 To view this article at World Market Media click on the link below: http://www.worldmarketmedia.com/779/section.aspx/1883/post/sector-10-inc-otcbb-seci-3m-marketcap-opens-doors-to-foreign-media
Disclosure:
no positions