Recession-proof industries…. is there really such a thing… well in a sense there can be a few.  Two I have seen firsthand from talking to CEO's and looking at the statistics are Pets and Babies.  Loved ones are the last expense to be cut. 
"Lose the DirecTV Hunnie, Johnny needs a bigger crib and Fido needs some more Frontline medication"
 
The infant product industry alone produces about $8 billion. One small cap company talking benefit of this industry is Crown Crafts Inc. Based out of Gonzales, LA; CRWS is going through some transitions in their company. They recently acquired Neat Solutions and Bibsters two leaders in disposable products. 

"We are thrilled to find an opportunity that will complement last year's acquisition of Neat Solutions by expanding our business in the disposable products category.  "Hamco already has the overwhelming market share in reusable bibs, and we are confident that the Bibsters line of disposable bibs will solidify Hamco's position as the overall leader in infant and toddler bibs," commented E. Randall Chestnut, Chairman, President and Chief Executive Officer of the Company.  

They also re-launched their infant website and are reaching out to moms and moms-to-be with Facebook and Twitter.  Resulting in developing a proper image consistent with its subsidiaries Hamco and NoJo. CRWS will release its fourth quarter and fiscal year results on June 28th.   CEO Randall Chestnut will be host a teleconference at 1:00pm CDT that day to answer investor questions.
CRWS is in the WMM Nano Cap Index they are currently up 14cents or 3.42% trading at $4.23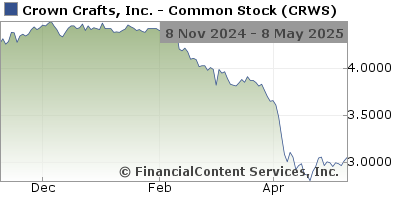 Be sure to keep an eye on CRWS for their results on June 28th and their Annual shareholder meeting on August 10th, 2010.    


To view this article at World Market Media click on the link below: http://www.worldmarketmedia.com/779/section.aspx/1935/post/crown-crafts-inc-nasdaq-crws-342
Disclosure:
no positions