Polymet Mining Corporation (AMEX: PLM) is currently trading at $1.55, up $.24 or 18.32%. The company announced today its Environmental Impact Statement (NYSEARCA:EIS) path forward to completion. The state and federal government agencies responsible for the EIS reviewing of PolyMet's copper-nickel-precious metals project will soon complete the EIS process. They will prepare a supplemental draft EIS that incorporates the proposed US Forest Service land exchange and expand government agency cooperation. Joe Scipioni, President and CEO of PolyMet, said, "The supplemental draft EIS will describe a project that can be built in a way that not only creates the much-needed jobs but also protects our environment and natural resources."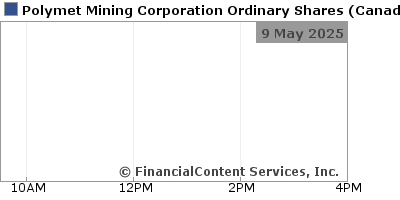 Tibco Software, Inc. (NASDAQ:
TIBX
) provides infrastructure software solutions in the areas of service-oriented architecture, business optimization, and business process management. The company released its Q2 2010 Earnings after the market close yesterday. Highlights included:
                -          Total revenue grew by 21% over the second quarter of 2009 for a Q2 record of $173.3 million.
-          Non-GAAP operating margins came in at 22.4%, an expansion of 340 basis points over last year and non-GAAP EPS at $0.15 grew by $0.04 over the second quarter of last year.
-          2010 2nd Quarter net income was $12.8 million, or 8 cents a share, up from $10.1 million, or 6 cents a share in the same quarter last year.
The company is currently trading at $12.60, up $1.26 or 11.11%.

 
Asure Software, Inc. (NASDAQ:
ASUR
) is currently trading at $2.38, up $.17 or 7.69%. On June 16
th
, the company released its financial results for the 3 months ending March 31, 2010. Gross profit increased from $1,244 for the 3 months ending December 31, 2009 to $1,822 for the 3 months ending March 31, 2010. Net income for the same period decreased from $49 to ($188) in March. It is trading at a volume of 15,894 shares, with a 52 week high of $4.70.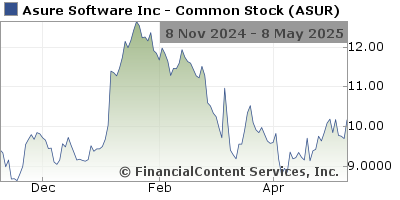 To view this article at World Market Media click on the link below: http://www.worldmarketmedia.com/779/section.aspx/1950/post/mid-day-market-movers-nasdaq-asur-tibx-amex-plm
Disclosure:
NO POSITIONS