Stanley Furniture Company, Inc. (NASDAQ: STLY) dates back to 1924, when Thomas B. Stanley—a young dairy farmer—founded the company. He started by shipping the finest lumber from the Northeast to Stanleytown, a small town in western Virginia, to create furniture of superior craftsmanship, style, and affordability. Today, over 1300 associates carry on Thomas Stanley's vision of quality, American-made furniture. The company is currently trading at $5.80, up $1.25 or 27.47%. It has been featured both today and on June 16th in Nasdaq's report of the top 10 largest percentage increases.
There hasn't been press released on the company since May 13th, when it announced its plan to cut about 530 jobs from its factories in Virginia as part of a manufacturing restructuring. The Stanleytown, Va.-based company said the move is necessary to return to profitability. The company lost $19.1 million in the first quarter on sales of $36.5 million, and revenues were down 8.1 percent from the first quarter of 2009.
Stanley will move most of the manufacturing of its traditional products from Virginia to several offshore vendors. Much of the factory space will be converted into a warehouse and distribution center.
The company will continue to manufacture its "Young America" youth and nursery product lines in Robinsville, N.C., though, said CEO Glenn Prillaman, because that market segment demands quicker shipments and more finishes and flexibility. It's a different story for the furniture that had been made in Virginia.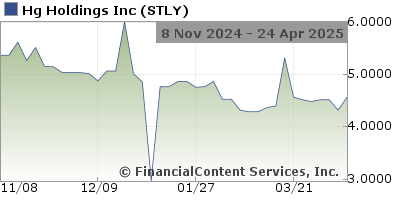 "The luxury segment of the adult market demands sophisticated finishes, exotic materials and labor-intensive features that domestic manufacturing in our Stanleytown facility can no longer profitably provide," he said.
To view this article at World Market Media click on the link below:
Disclosure:
no positions