Crown Crafts, Inc. (NASDAQ: CRWS) operates indirectly through its wholly owned subsidiaries in the infant and toddler products segment within the consumer products industry. Crown Crafts is America's largest producer of infant bedding, bibs and bath items. The infant and toddler products consists of infant and toddler bedding, bibs, infant soft goods and accessories. The company's operating subsidiaries include Hamco, Inc. in Louisiana and Crown Crafts Infant Products, Inc. in California.
Today, the company has released its 4th Quarter and Full Fiscal Year 2010 results. Financial highlights include:
-          Fourth quarter net sales increase by 6% to finish at $86.1 million for full fiscal 2010
-          Fourth quarter net income, excluding the goodwill impairment charge in fiscal 2009, increases by 15% from $2.0 million in fiscal 2009 to $2.3 million in fiscal 2010
-          Fiscal 2010 Adjusted EBITDA increases to $10.5 million, or 12.2% of the net sales, the highest amount since 1998.
Crown Craft's net income for fiscal 2010 was $4.8 million, or $0.52 per diluted share, on net sales of $86.1 million compared to net income for fiscal 2009 of $4.5 million, or $0.47 per diluted share, on net sales of $87.4 million (after excluding a $21.6 million charge, net of tax, related to an impairment to goodwill). Including the goodwill impairment charge, the company reported a net loss for fiscal 2009 of $17.1 million, or $1.83 per diluted share. The company is currently trading at $4.67, up $0.41 or 9.62%.


"We are pleased with the strong finish that our fourth quarter 2010 earnings provided for our full year results," commented E. Randall Chestnut, Chairman, President and Chief Executive Officer of the Company. "Early in the year, we were challenged by economic conditions that impacted the retail sale of our products. As the year progressed, we made appropriate adjustments to our cost structure, which aided us in our rebound.
To view this article at World Market Media click on the link below: http://www.worldmarketmedia.com/779/section.aspx/1958/post/crown-crafts-inc-nasdaq-crws-41m-marketcap-q4-earnings-release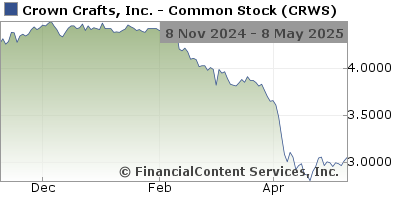 Disclosure:
no positions