Pacific Ethanol, Inc.'s (NASDAQ: PEIX) shares rose by 4 cents, or 8.8%, to 50 cents in Tuesday's late trading session after its announcement that Pacific Ethanol Holding Co. LLC (PEH) and its 4 wholly-owned ethanol production facility subsidiaries (the"Plant Subsidiaries") had emerged from bankruptcy. The Plant Subsidiaries, which are now owned by a newly formed holding company ("New PEHC"), will continue to be staffed, managed, and operated by PEIX under a fee and profit-sharing arrangement negotiated with the owners of New PEHC. In addition, the Company, through its marketing subsidiary Kinergy Marketing, will continue to market ethanol for the Plant Subsidiaries. Pacific Ethanol is currently trading at $0.6799, up $0.2196 or 47.71%. The average daily volume for Pacific Ethanol is 1.01 million.

Pacific Ethanol has eliminated approximately $290 million in debt and other liabilities from its balance sheet. The bankruptcy did not affect the company's ownership structure and the company continues to be owned by its existing common and preferred stockholders. PEIX has an exclusive option to purchase up to a 25% equity interest in New PEHC for up to $30 million in cash, which is exercisable for a period of 90 days from today.
"Thanks to the dedicated work of our employees and the cooperation of our lenders we have achieved this important and positive outcome," said Neil Koehler, the Company's President and Chief Executive Officer. "We believe that our business is well positioned for growth. With the California plants capable of producing the lowest carbon ethanol in the United States, we are now focused on a plan to restart these facilities to provide much needed ethanol to meet California's Low Carbon Fuel Standard."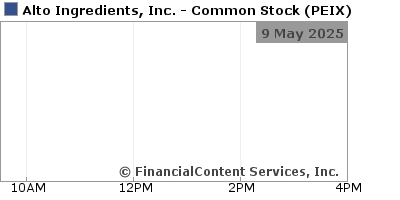 To view this article at World Market Media click on the link below: http://www.worldmarketmedia.com/779/section.aspx/1978/post/pacific-ethanol-inc-nasdaq-peix-47-after-its-subsidiaries-exit-bankruptcy
Disclosure:
no positions