Now it seems that Las Vegas has everything: casinos, entertainment, fine restaurants, grand hotels, and finally, more Jamba Juice. On August 4, 2010, Jamba Juice Inc. (NASDAQ: JAMBA) announced the sale of seven restaurants in Las Vegas, Nevada to a multi-concept owner and operator of stores throughout the Las Vegas Valley, Jeffrey Fine, principal of Fine Concepts, LLC. This  agreement will commit to expanding the Jamba Juice brand by developing eight additional stores in the Las Vegas market. In closing the transaction, The company has accomplished more than two-thirds of its goal to refranchise up to 150 stores. 
"Jeff's acquisition of these stores is significant as his plans to expand the Jamba brand, will more than double our presence in Las Vegas over the next three to five years," said Thibault de Chatellus, Senior Vice President, Global Franchise and Development, Jamba Juice Company. "Las Vegas is one of America's most popular tourist destinations and this planned expansion creates an outstanding opportunity to grow global awareness of the Jamba brand." 
JMBA stock has seen a slight decline over the past three months., however, with the acquisition of new stores in Las Vegas as well as a reported 13 refranchised stores set to open in California, the company could experience a boost. The stock last traded at $2.02 and closed with a .50% increase from the day before.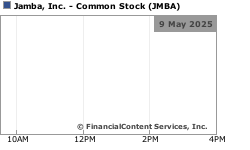 For more information visit
http://www.worldmarketmedia.com/779/section.aspx/2199/post/jamba-juice-goes-to-town-in-vegas-nasdaqjmba