Summary
NQ Mobile Security & Antivirus flagship product seeing rapid deceleration.
Almost zero premium subscription user growth.
Google Play store app reviews and downloads seem questionable.
After NQ Mobile (NQ) reported Q4 earnings on April 10, 2014, it became clear the company had lost its way, at least in the core competency and founding business model of mobile security products - and more specifically, the flagship NQ Mobile Security & Antivirus application suite. As Wikipedia states, "The company was founded in 2005 by Dr Henry Lin and Dr Vincent Shi. The company develops products to combat the growing security threats targeting smartphone users. In October 2005, the company launched it's first mobile security product, NetQin 1.0".
To summarize my concern, gross margin plunged 1900 basis point YOY and 1070 points sequentially. Gross margin was 48.8% in the fourth quarter of 2013, compared with 67.8% in the same quarter a year ago and 59.5% in the previous quarter. During the April 10 earnings call, management blamed the shortfall on shrinking mobile security subscription revenues, as quoted "increased revenue contribution of mobile games and advertising, which have lower gross margins than the mobile security subscription revenues". This assertion by management is very true. Premium users virtually stalled at 15.6 million vs 15 million in Q3 - and frightening considering Q2 to Q3 saw a 35% growth in premium users from approximately 11 million to 15 million users.
Here is the Download Rank graph of the NQ Mobile Security & Antivirus app in the USA (October 31, 2013 - May 18, 2014, coinciding with Muddy Waters allegations):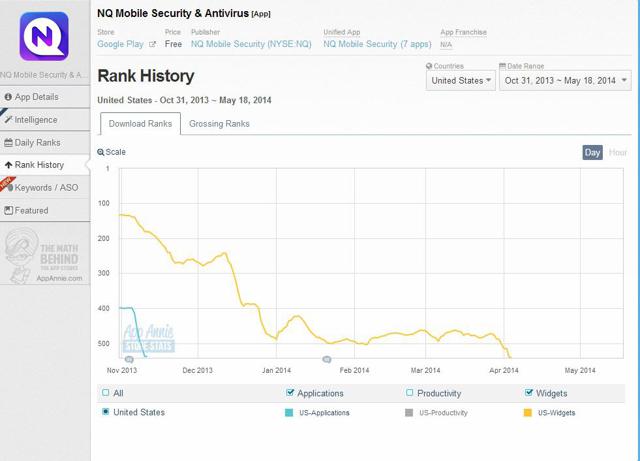 While there are no published numbers available for NQ Mobile's China download rank on App Annie, the USA trend is no-less alarming and would likely follow China as per management's guidance and Q4 conference call remarks.
So why did premium users come to a halt since October 2013, which had been growing exponentially prior to Carson Block's round-tripping allegations? Is it a mere coincidence that premium user growth simply disappeared after Muddy Water's story broke? Or did NQ management ratchet down numbers and expectations to remove the spotlight from Yidatong (YDT)? Recall that NQ Mobile's billing service provider YDT is at the center of the alleged scandal, being blamed by Muddy Waters for creating fake revenues to the tune of 25% or more of NQ's reported revenue since its IPO. Right or wrong, the "ratchet down" theory would seem plausible since YDT's revenues are derived from NQ premium downloads and subs. So by logic, if YDT revenue is mostly fake and NQ is being forced to seek legitimate sources of revenues, NQ would need to ratchet down YDT's impressive revenue contribution to NQ's top and bottom line. Perhaps by coincidence, but management has not broken out YDT's revenue contribution in the Q3 or Q4 prepared remarks, financial statements, or earnings conference call - so we're in the dark for now.
Another observation worthy of note: Notice the preponderance of recent NQ Mobile Security & Antivirus app raving reviews on Google Play of Bangladesh and/or Philippine origin. What's wrong with this picture?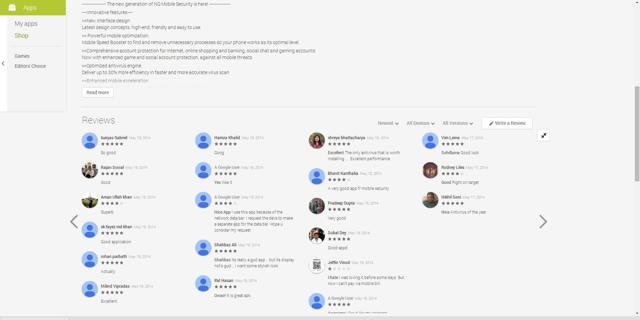 Of the 20 most recent NQ Mobile Security & Antivirus reviews, 16 reviewer names appear indigenous to the Bangladesh/Philippines area and awarded NQ a perfect score, while 3 anonymous reviewers awarded NQ a perfect score, and 1 outlier of "non-Bangladeshish" origin awarded NQ a fail score. Bangladesh at per capita income of $62/month (and to a lesser extent Philippines at $215/month) would not bode well to NQ Mobile's $24.99 Security & Antivirus subscription, so it seems unlikely that these reviewers would pay almost half their monthly income for an app.
Another puzzling question, why did NQ recently begin charging its users to update malware definitions? Since anti-malware software is effectively useless without these important updates, NQ appears to have dumped the freemium model which by all practical measure should now be defined as a premium-only model. Is this another coincidence, or is this NQ's solution to offset some of the revenues Muddy Waters alleges as fake? Whatever the reason, there seems to be little incentive to use NQ Mobile Security vs the many top rated free mobile security apps as Qihoo360 (NYSE:QIHU), Kaspersky, TrustGo, Lookout, and others who provide free malware updates. And if the majority of USA based mobile device users are satisfied using totally free security apps, why would users from basketcase countries like Bangladesh volunteer to shell out $24.99/year? Well, it is known fact that dubious companies from Bangladesh and Philippines have been providing fake review services, Yelp (NYSE:YELP) being the recent victim of such online scams.
Finally, if we subscribe to the theory that many of NQ Mobile app reviews are fake, it would imply that those same reviewers created fake downloads, since downloading the app is a requisite to leaving feedback. To rephrase it another way, fake downloads and fake reviews become an essential component to the fake YDT revenue story as disclosed in Muddy Waters NQ/YDT RoundTripping theory.
Dejavu iTunes? Note my blog on the "The iTunes Mystery Continues":seekingalpha.com/instablog/26607133-appl...
Disclosure: This blog post represents my own opinion and information was gathered from publicly available material. This blog post is not a recommendation to buy or sell any security, and as always, investors must perform their own due diligence. I may be holding positions in equity or options, both long or short in securities of the company or companies mentioned herein.