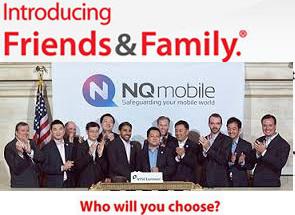 NQ Mobile's annual General Meeting is set for January 20, 2016. Last year's meeting resulted in NQ founders (under RPL Holdings) casting their 11.6% of outstanding shares owned (in super-voting class B share format) which guaranteed ratification of the resolution to increase class A authorized shares from 560 million to 1.56 billion for the purpose of effectuating future issuance of shares for stock-based compensation or acquisitions - while cleverly maintaining 61% absolute control of NQ Mobile with 240 million class B shares already authorized. Even if every holder of class A shares (or ADS equivalent) voted against last year's proposal to triple authorized share count, they didn't stand a chance as NQ founders control 56% of voting power with one class B share vote equal to ten class A share votes.
This year's annual General Meeting appears to follow the same pattern of introducing proposals to benefit NQ insiders and further solidify the founder's control of NQ Mobile. In this case, the main agenda is a resolution to change the definition of the term "Affiliate" in the company's articles of incorporation. Namely,
"THAT the Company's Articles of Association be amended by deleting the definition of "Affiliate" in Article 1 and replacing therewith the following new definition:
'Affiliate - with respect to any specified Person, any other Person that directly, or indirectly through one or more intermediaries, controls or is controlled by, or is under common control, with such specified Person, and for individual Persons, any child, stepchild, grandchild, parent, stepparent, grandparent, spouse, sibling, mother-in-law, father-in-law, son-in-law, daughter-in-law, brother-in-law, or sister-in-law, including adoptive relationships, and any entity controlled by any of the foregoing.'"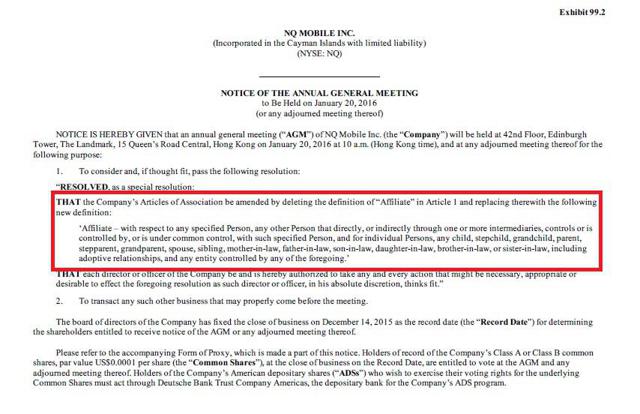 So by amending the term "Affiliate", NQ Mobile insiders are effectively broadening the scope of inclusion for new "Affiliates" with the purpose of maintaining full control of the company should current or future class B holders choose to transfer, sell, or pledge their shares to parties who are not "Affiliates" under the existing article. As a reminder, change of control of class B shares to "non-Affiliates" triggers an immediate conversion to class A shares, thereby losing 90% voting rights. From the latest 20-F,
"Upon any sale, pledge, transfer, assignment or disposition of Class B common shares by a holder thereof to any person or entity which is not an affiliate of such holder, or a founder or a founder's affiliate, each such Class B common share shall be automatically and immediately converted into one Class A common share":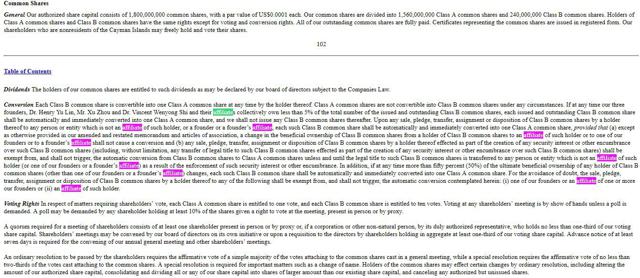 Here are a couple of scenarios where the new "Affiliate" could benefit insiders:
While former NQ chief Dr Henry Lin resigned from NQ Mobile under a suspicious cloud - it appears he recently became shareholder in a Chinese start-up called Tianxin Unlimited Technology. As an "Affiliate" defined under the proposed amendment, Dr Lin could effect a transfer, pledge, or sale of any or all his class B shares from RPL Holdings to Tianxin (the "Affiliate") and still keep the 10:1 voting rights previously assigned to class B shares.
The current stock based incentive plan limits the amount of class B shares that any individual may receive directly in any given year. With the expansion of new definition for "Affiliates", insiders may be able to circumvent the stock-based incentive plan and issue more class B shares through new "Affiliates" without raising any red flags.
In summary, while most of NQ assets are already non-recourse to any ADS shareholder claims by virtue of it's VIE corporate structure, the new proposed amendment appears to "seal the deal" for indiscriminate insider control of the company through perpetuity, allowing the founders (RPL Holdings) to do whatever they please with NQ Mobile. Even the risk factors warn investors of this probability. From the latest 20-F:

With NQ stock hovering near all-time lows and no end in sight for management's incompetence, short sellers may have reason to speculate a $1 price target on shares of NQ Mobile; but with the expansion of insider leverage TBA on January 20, NQ's founders may also have reason to speculate a $1 price target for an MBO of whatever remains of NQ Mobile's assets post-divestiture - and unfortunately for longs, it doesn't take a crystal ball to predict the ballot outcome of the new NQ Mobile "Friends and Family Plan".
Disclosure: This blog post represents my own opinion and information was gathered from publicly available material. This blog post is not a recommendation to buy or sell any security, and as always, investors must perform their own due diligence. I may be holding positions in equity or options, both long or short in securities of the company or companies mentioned herein.