This is a bit late, but wanted to start a blog for each year that would have responses whenever I bought/sold anything and the rationale behind that. Since the year has already started, I will post my current holdings and then updates will be new buys and sells as time goes on. I don't have many followers, but I encourage any and all discussion from the posts.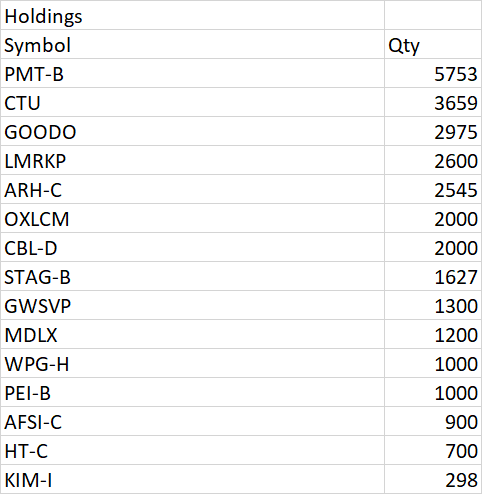 3/2/2017 Bought 298 KIM-I @ 25.12
3/2/2017 Bought 1000 AFST @ 25
3/20/2017 Bought 2545 ARH-C @ 25.09
3/20/2017 Bought 1000 NGHCZ @ 24.5
3/30/2017 Bought 1000 WPG-H @ 24.99
Recent buys I am going to start off with recent buys
Rationale
KIM-I: Kimco's bonds are rated BBB+ and a solid reit business. It just past its callable date, so they can call it at any time. The coupon is low but this matches one of my conditions of favoring preferreds that are past call date with a decent coupon of a sound company. The also have lower yielding preferreds and the threat of this potentially being called will keep this one near par for now.
AFST: This is a higher yield note 7.50% for Amtrust Financial. It went from high $26+ to $24. The dumping was caused by delaying in financials. Delaying is one thing.. but going bankrupt? This is a note that must be paid unless they are going bankrupt.
ARH-C: This will now be callable in 1 day. This is purely a gamble that they won't call it. They must declare 30 days before calling it. This is a 6.76% coupon. I continue to like higher yielding, past call date, and good standing companies, and this one fits the bill.
NGHCZ: This is a 7.625% note from another insurance company. They also delayed their 10k filing, but have since filed it. I usually swing trade this one and have made a fair amount of money over the last few years on this one. I usually buy below $25 and sell at $26, making up to 9 months of interest in a short time frame.
WPG-H: This is a high yielding preferred from a company rated BBB-. Lots of debates out there about REITS in the mall business and pros and cons. There is NO debate that the articles written on this company is increasing every week. Usually it is worth taking several looks as passion is in the air. I have done this on O, OHI, HCN, etc. When articles are increasing by leaps and bounds, it usually means an opportunity to make money on either side of the trade. It is has the features that I also like, which is in 2 more dividend payments... it will be callable. Since it has a lower yielding preferred that exists, it will provide some protection. Since I purchased at $25, and it should provide a nice floor and the threat of it being called should keep it near there while I collect a couple of dividend payments. I have to put my cash somewhere and this fits the build for short term, as they have plenty of cash to pay dividends at this time.
Several articles are here that are very good reads by respectible authors and some up and coming authors in my humble opinion that I follow:
Rubicon Associates - seekingalpha.com/article/4059391-reading.... and seekingalpha.com/article/4057997-washing...
Bill Stoller - seekingalpha.com/article/4054762-washing...
Jussi Askola - seekingalpha.com/article/4054213-12-perc...
Thomas Pangia - seekingalpha.com/article/4057438-sucker-...
Brad Thomas - seekingalpha.com/article/4055646-forget-...
Disclosure: I am/we are long ABOVE STOCKS MENTIONED.
Additional disclosure: I wrote this blog myself, and it expresses my own opinions. I am not receiving compensation for it. I have no business relationship with any company whose stock is mentioned in this article. This is simply my buy/sell list for the year and the purpose is to create discussion so that I can continue to grow as an investor in the preferred stock space.