GET The First Two Weeks of My SA Marketplace Service Reading the Markets For Free! It is $25 per month or $200 per year!
On June 1, that rate goes UP to $35 per month or $300 per year, Existing members are unaffected. Lock in now.
Some of our most recent articles you might be interested in:
ORIGINALLY APPEARED ON MOTT CAPITAL'S WEBSITE
May 16 - Stock Mentions: Cisco, Micron, Walmart, Intel, and Netflix
Michael Kramer and the clients of Mott Capital own Cisco and Netflix
US Markets
S&P 500 Futures +9
10-Year Rates 2.38%
Dollar Index 97.54
Oil $62.50
Vix 15.88
International Markets
Japan Nikkei -0.59%
Shanghai +0.58%
Hong Kong HSI +0.02%
South Korea Kospi -1.2%
Germany DAX +0.67%
UK FTSE +0.23%
Sorry, today's write-up is a little bit abbreviated as I have to get out early today.
Stock Market
S&P 500 (
)
At the moment equities are pointing to a higher opening on May 16 and should that happen the S&P 500 is likely to cross above the downtrend that has been in place since May 6. It would be a positive development for the equity market and put the index on a path to close the gap up to 2,880. The chart below of the SPY ETF gives us a good sense of how the S&P 500 is setting up for the start of the day. Premium Content: The Mood Is Shifting.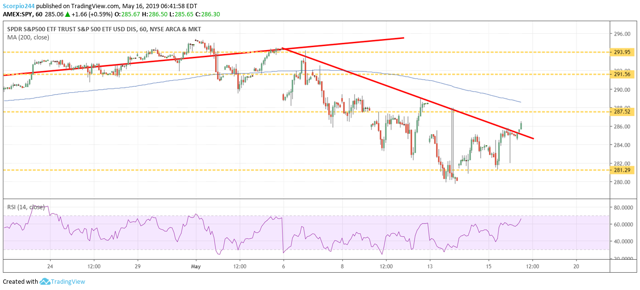 Cisco (
)
Cisco is jumping this morning by over 3% after the company reported better than expected quarterly results. The stock faces a resistance level at around $55. If that level is taken out, the stock has an excellent chance to get back to it recent highs.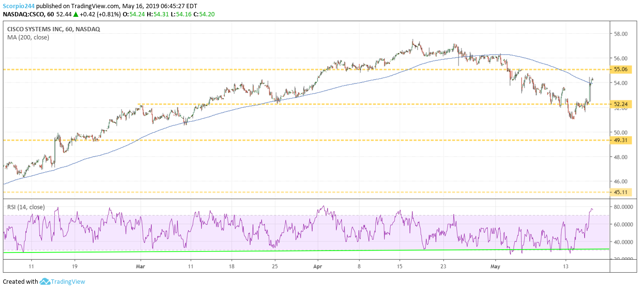 Micron (
)
Micron continues to feel the pressure of the trade war, and shares are falling today. It does set up a potential retest of its recent lows around $37.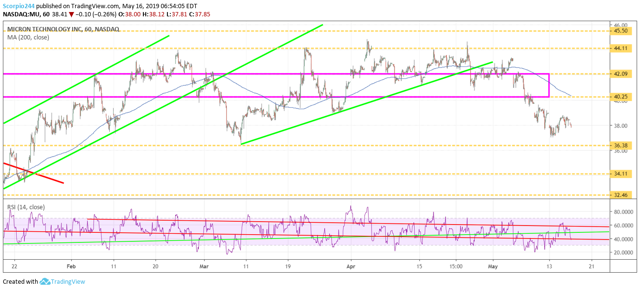 Netflix (
)
Netflix will continue to try to rebound, and at least for yesterday $341 continues to hold as support. For now, $378 is the upper end of the range. The stock continues its consolidation. However, the RSI is still pointing lower, as of now it is tough to say that the stock is going to rise much higher than $378 at this point.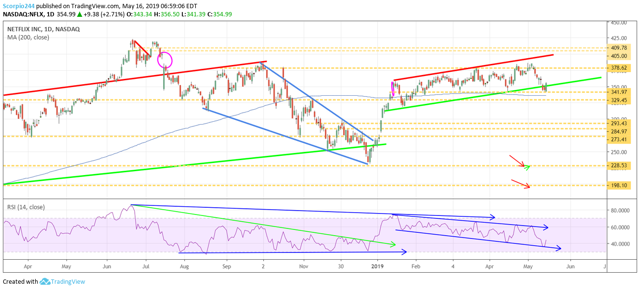 Walmart (
)
Walmart reported better than expected results on the bottom line but missed on revenue. The only negative seems to be that e-commerce growth came in at 37%, which as a bit slower than the 40%+ in prior quarters. There is some fierce resistance around $103, which appears is going to be hard to top, even with today's results. The stock is trading up around 0.5% as of 7:15 am.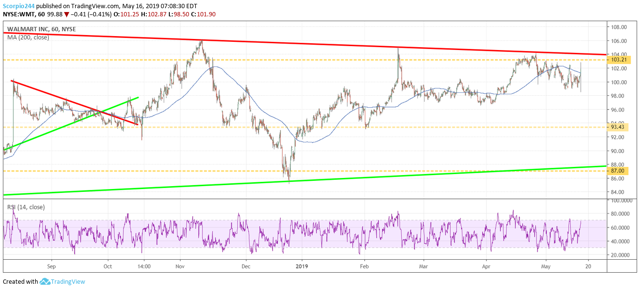 Intel (
)
Intel is trying to emerge from its slump and if it can rise above $46 it could set up a move to around $47.70.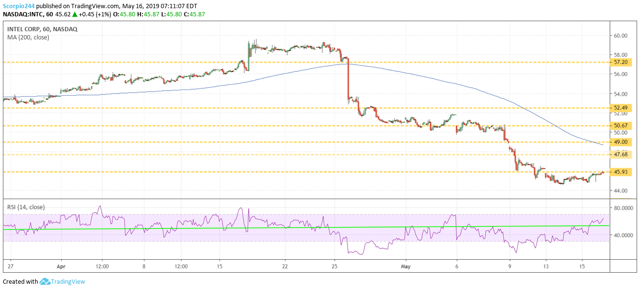 Have a good day.
Mike
Mott Capital Management, LLC is a registered investment adviser. Information presented is for educational purposes only and does not intend to make an offer or solicitation for the sale or purchase of any specific securities, investments, or investment strategies. Investments involve risk and unless otherwise stated, are not guaranteed. Be sure to first consult with a qualified financial adviser and/or tax professional before implementing any strategy discussed herein. Upon request, the advisor will provide a list of all recommendations made during the past twelve months. Past performance is not indicative of future results. may 16
The focus of Reading the Markets is to find stocks that may rise or fall using fundamental, technical, and options market analysis. Additionally, we search for clues from the broader markets to discover trends and gauge direction.

Michael Kramer relies on his more than 20-year of experience working in the financial industry. 10-years of experience comes as an international and domestic buy-side equity trader at multi-billion long/short investment advisor.
I hope this gives a brief overview of how we are dissecting the markets daily. Sign up and get two-weeks for free!
-Mike