Try Reading the Markets For The First 2-Weeks Free!
Just $35/month or $300/Year
September 9- Stock mentions: SPY, IWM, ROKU, FCX, LULU, AAPL, NXPI
Michael Kramer and the clients of Mott Capital own AAPL and NXPI
It was a rather dull day with the S&P 500 finishing the day flat. However, underneath the surface, there was some sector rotation that was taking place. It sent the financial and energy stocks higher, and technology lower.
Based on the movement in yield and oil, the rotation seems rational and somewhat logical. The big question is if it will last? That part I'm not sure at this point. One day doesn't make a trend, but I do not happen to think that oil and yields can continue to rise a bit more. I show you in my video more, sorry it is easy to show than to explain. Premium content: Sector Rotation Driving Markets Today
S&P 500 (SPY)
The good news is that the index is holding support around 2975. Nothing in my outlook has changed.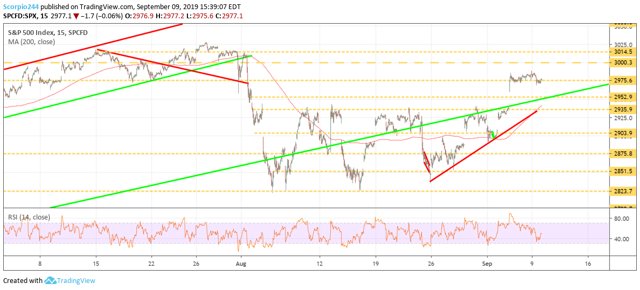 Russell (IWM)
The Russell had a great day, rising by over 1% today, and is attempting to clear resistance at 1,521. I think that is positive and that 1,536 is likely next.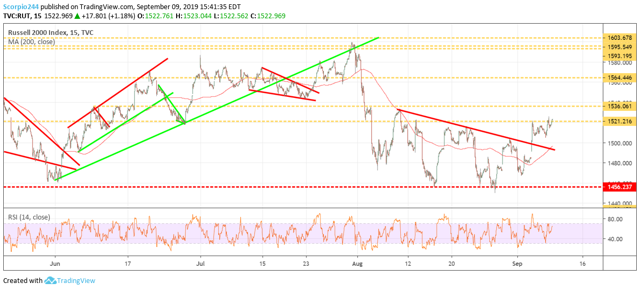 Here are a few Marketplace articles, First 2-Weeks Free:
Is the Roku bubble popping? It certainly seems possible. The stock's valuation makes Netflix look cheap. But at this point, you can see that the uptrend is still intact. However, should the stock drop below $155 then perhaps it sends the $100. But $155 is the level to watch.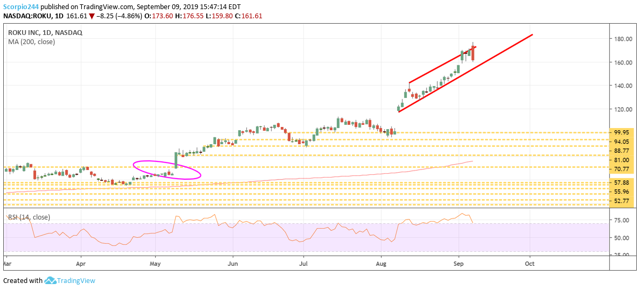 Freeport (FCX)
Freeport jumped today, and the next level to watch for is $9.90.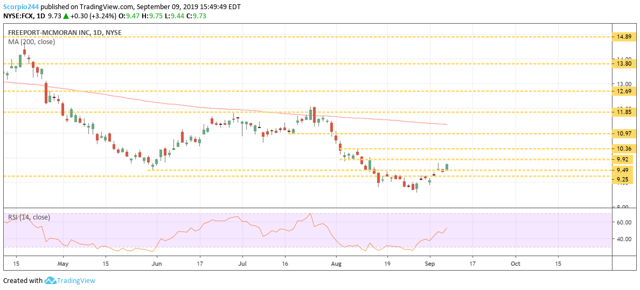 Lululemon (LULU)
Lululemon was down today after last week's significant gains. But for now, it holds support at $195. However, a break of support will send shares towards $189.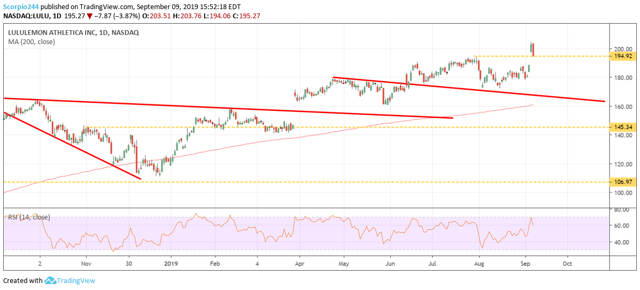 Apple got close to failed at resistance around $217. I saw bearish options betting in the stock, and I noted it in a free article today. It has me thinking that perhaps the stocks run may cool some. $209.50 is the next level of support.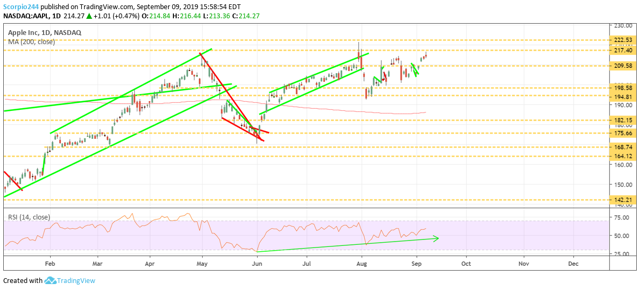 NXPI looks as if it may have broken out rise above $106. We have been waiting for this for some time. But perhaps it finally sticks with a move to $115 possible.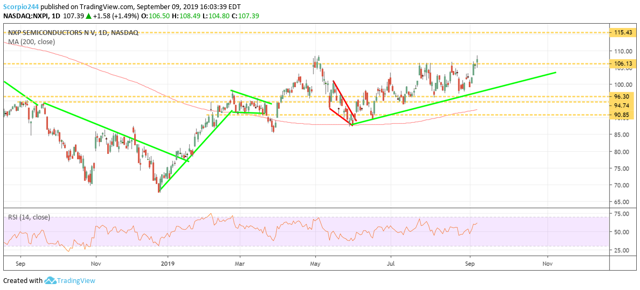 If you love my free content, then I think you will enjoy my Seeking Alpha Marketplace premium content even more. Audio, video, and written analysis, plus I show you my process and my coverage list. The best part, I'm here to help you, with a rapid response time. Plus the first two weeks are free to try!
Here are some recent titles:
-Mike
Mott Capital Management, LLC is a registered investment adviser. Information presented is for educational purposes only and does not intend to make an offer or solicitation for the sale or purchase of any specific securities, investments, or investment strategies. Investments involve risk and unless otherwise stated, are not guaranteed. Be sure to first consult with a qualified financial adviser and/or tax professional before implementing any strategy discussed herein. Upon request, the advisor will provide a list of all recommendations made during the past twelve months. Past performance is not indicative of future results.