July 23, 2014 -- Signals from technical levels and momentum, options risk reversals, CFTC positioning indicate potential for USD to correct in coming 2-4 weeks, particularly vs EUR, CAD, NZD.
.
.
• EUR/USD - signs of bottoming; may rally 1.8% in next few weeks
.
.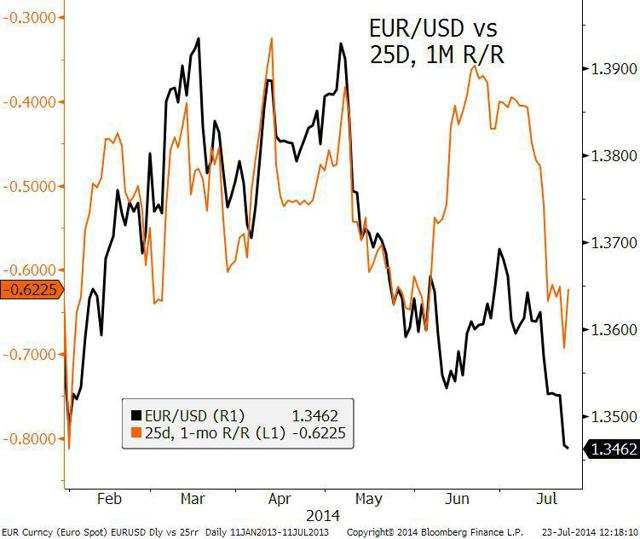 • Momentum oversold, starting to turn higher; RSI up from low since May; stochastics near to crossing higher low since May; MACD differential at low since May
• Options: 1-mo., 25-d, R/R -0.6225%, rebounding from yday's -0.6925% low since Feb.; suggests potential for FX rebound
• Potential target: ~1.3700 June 30, July 1 highs
• Key support: 1.3400 Nov. 21 low
.
.
.
.
• USD/CAD - rally stalling; may fall 1.1% into Aug.
.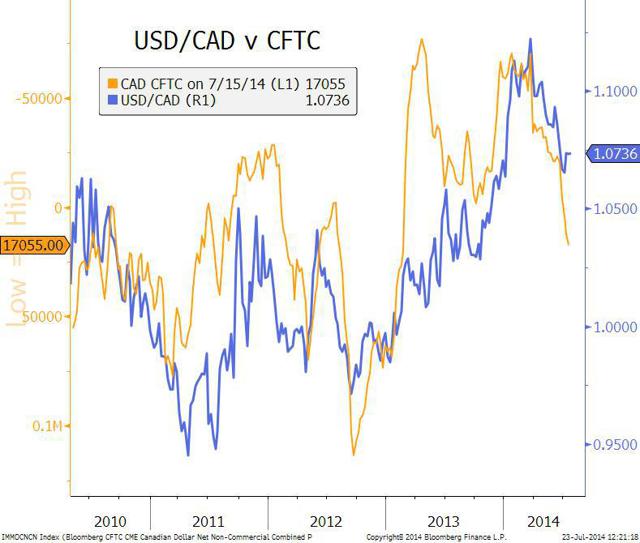 • Rally fueled mostly by weak Canadian employment report on July 11; has given way to price remaining at/below 1.0750 past 8 sessions, doji formations two previous days
• Momentum at/retreating from overbought levels: MACD differential, RSI lower from recent multi-week highs; stochastics high since mid-June
• CFTC data show traders becoming bullish for CAD; have covered short CAD positions and established first net long since 2013
• Potential target: 1.0621 July 3 low
• Key resistance: ~1.0795 50-DMA, July 16 high
.
.
.
.
• NZD/USD - Retracement halted; may rebound 1.8% next 2-4 weeks
.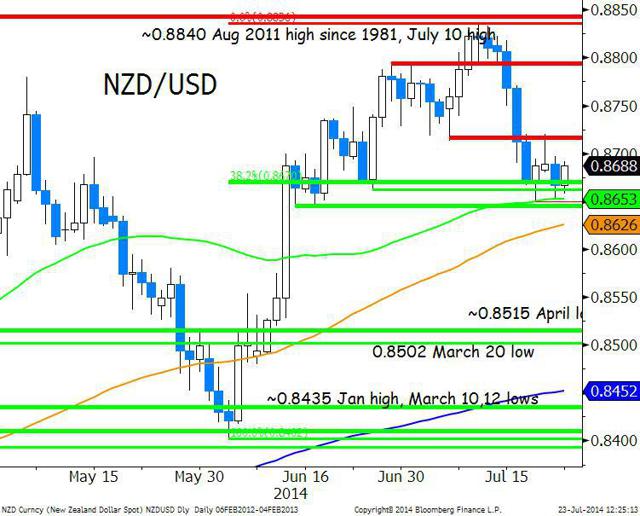 • Unable to breach congested support ~0.8640-0.8670 from 38.2% retrace of June-July rally, 50-DMA, late-June lows
• Momentum at/rising from extreme lows: RSI up from extreme since early-June; MACD higher from bottom since Feb.; stochastics at low since early June
• Options: 1-mo., 25-d R/R rebounding sharply; rebounds in March, April, May led FX rallies
• Potential target: ~0.8840 Aug. 2011 high since 1981, July 10 high
• Key support: 0.8645 mid-June lows, bottom of congested support
.
.
• NOTE: TJ Marta is an FX strategist who writes for First Word. The observations he makes are his own.
Disclosure: The author has no positions in any stocks mentioned, and no plans to initiate any positions within the next 72 hours.