RBNZ unanimously est. by economists to leave policy rate unchanged at 3.50%; euro zone forwards have negative yields through Nov. 2016 after last week's ECB easing
• NZD: RBNZ est. unch. at Wed. evening (17:00 EDT) meeting
• RBNZ signaled pause at July meeting after 4 hikes this year; Citigroup economic surprise index for New Zealand has been negative since April, while OECD leading index y/y has slowed after what appears to be a cyclical peak last Oct.
• RBNZ forecasters project rate hikes of 50bp to 4.0% during 1Q 2015, another 25bp in 3Q, and another 25bp to 4.50% by year-end 2015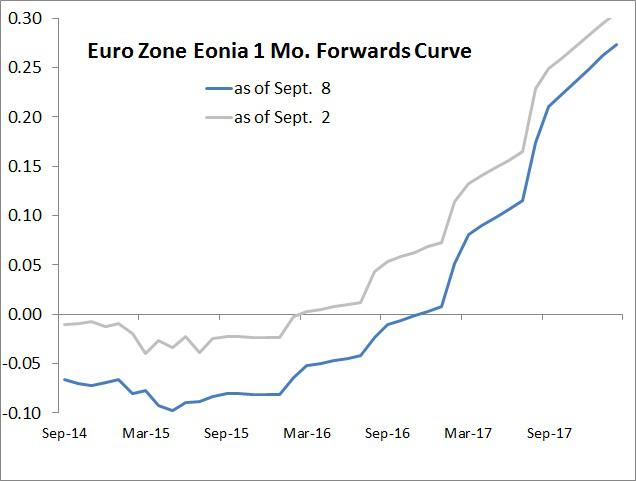 • EUR: Eonia forward curve lower along curve, as much as 6.7bp for June 2015, after ECB move more dovish than expected, cutting policy rates, preparing for securities purchases
• Market prices negative short-term rates through Nov. 2016 from March 2016 last week; first rate hike to 0.25% indicated for Feb. 2018 from Oct. 2017 last week
• Next meeting Oct. 2
• GBP: Sonia forward curve lower, as much as 14bp for Jan. 2016, as concern mounted late last week that Scotland might vote for independence from Britain
• BoE held policy rate unch. last week, as expected
• Market prices first full move, +25bp to 0.75%, for 2Q 2015 vs economists projecting 1st hike in 1Q
• Next meeting Oct. 9
• JPY: 1-Mo. OIS forward curve mixed with little change through 3Q 2016 after BoJ kept policy unch.
• Even before last night's greater-than-expected downward revision to 2Q GDP, most analysts expected further easing via monetary base expansion and/or increased asset purchases
• 1st hike, to 0.25%, priced for 1Q 2019 unch. from last week
• Next meeting Oct. 7
• CAD: OIS forward curve little changed after BoC left rate unch. and stance neutral on continued economic slack, as expected
• First priced rate move, +25bp to 1.25%, remains Dec. 2015; economists est. first hike to 1.25% 3Q 2015
• Next meeting Oct. 22
• SEK: OIS 1-mo. forwards little changed through April 2015, then lower, as much as 15bp in Jan. 2016, as Riksbank lowered its guidance for the repo rate
• Riksbank lowered 3Q 2016 repo rate to 1.38% from July's 1.45% projection, 3Q 2017 rate to 2.25% from July's 2.35%; continues to expect first rate hike by end of 2015
• Market more dovish; prices first move, +25bp to 0.50%, Sept. 2016 from Feb. 2016 last week
• Next meeting Oct. 28
• AUD: OIS curve mostly higher vs last week despite RBA keeping policy rate unch., reiterating it sees likely period of interest rate stability
• OIS market prices chance of RBA cut to 2.25% through Sept. 2015, as much as 29% for Dec. 2014
• First fully priced move 25bp hike to 2.75% 3Q 2016, later than 2Q 2016 expected by surveyed economists
• Next meeting Oct. 6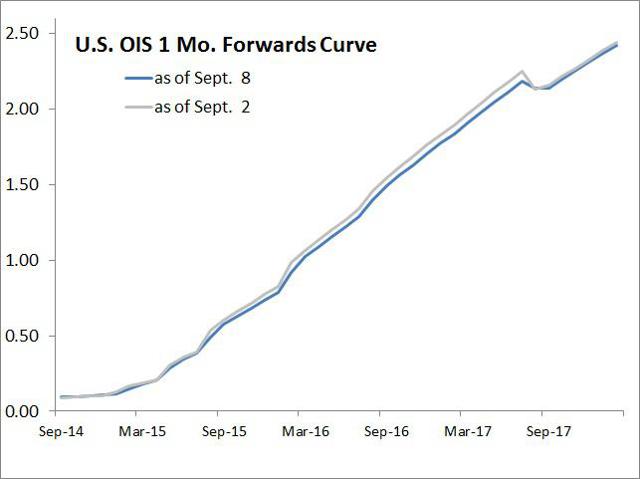 • USD: OIS forward curve mostly lower, as much as 7bp for June 2017
• Curve prices first hike to 0.50% 3Q 2015, same as est. of private economists
• Next meeting Sept. 17, with press conference and updated economic projections
• CHF: Forward yields lower along most of curve; consistently positive policy rate pushed back to 3Q 2017 from 3Q 2016 last week
• 1st rate increase, 25bps to 0.50%, priced for 3Q 2019
• SNB Libor target rate: 0% (upper target 0.25%)
• Next rate decision: Sept. 18
• ILS: Swap forwards lower along most of curve, by as much as 16bp for Aug. 2016
• First fully priced move, +25bp to 0.50% pushed back to Feb. 2016 from Nov. 2014 last week
• Economists remain steady in forecasting first move, +25bp, 2Q 2015
• Next meeting Sept. 22