RBA likely to remain on hold, with risk from rhetoric about reliance on macro-prudential policy tools, shift in comments on currency; BOJ expected to keep policy unchanged, and markets will focus on Kuroda press briefing, which may include a downbeat assessment of economic
outlook, BOE seen unchanged.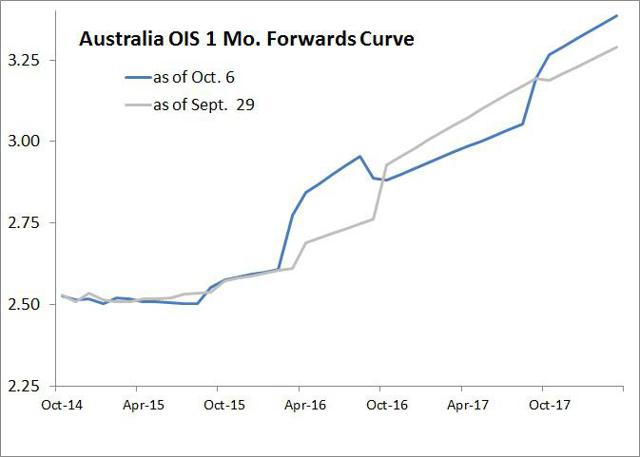 • AUD: RBA est. unch. 2.50% tonight by all 26 economists surveyed; OIS market prices 2.2% chance of 25bp cut
• Policymakers are considering tighter lending rules to damp housing activity, while leaving monetary policy accommodative to support other sectors like manufacturing and services
• Some risk may tweak AUD language after recent correction toward level more in tune with RBA Stevens commentary
• OIS curve little changed out through 1Q 2016 since last week
.
.
• Prices small chance of RBA cut to 2.25% - as much as ~8% for June 2015 - through Sept. 2015
• First fully priced move, 25bp hike to 2.75%, April 2016 from Sept. 2016 last week
• Surveyed economists' consensus for first hike remains 3Q 2015
• NOTE: Labor market report due after RBA meeting, est. -30k, prior 121k, may prove of greater interest than policy meeting, Bloomberg's Richard Breslow says
.
• JPY: BOJ unanimously expected by economists to keep JPY270t monetary base target unchanged tonight; Kuroda briefing in focus amid debate over desirability of JPY weakness
• Most economists expect further policy easing
• Economic data continue to surprise on downside, threatening BOJ's calls for continued moderate economic recovery
• 1-Mo. OIS forward curve flatter on week by as much as 3.4bp for Sept. 2017
• 1st hike, to 0.25%, priced for 4Q last week, little changed
.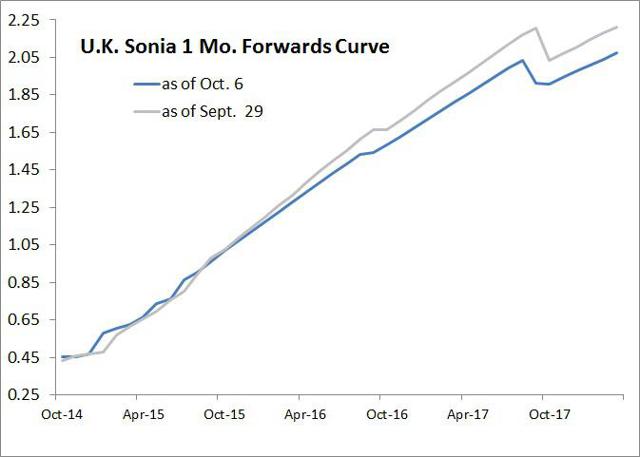 .
• GBP: BOE unanimously expected by economists to keep target rate, asset purchases unch. at 0.5%, GBP375b at this week's meeting
• Policymakers remain wary of economy's strength while envisioning eventual policy normalization
.
• Sonia forward curve shifts higher near term by as much as 10bps out through 3Q 2015, then shifts lower, flatter further out by as much as 29bps for Sept. 2017
• Market's first fully priced move, +25bp to 0.75%, remains 2Q 2015 vs economists projection for 1st hike in 1Q
.
• EUR: Eonia forward curve higher for 2Q 2015 to 3Q 2017 tenors from last week after Draghi appeared to backtrack somewhat on EU1t balance sheet expansion even as German data slows
• German factory orders disappointed earlier today, -5.7%m/m vs est. -2.5%, prior 4.9%; new print worst since Jan. 2009
• Forward market projects rates turning positive Oct. 2016 from Aug. 2016 last week
• First rate hike to 0.25% indicated for Oct. 2017 from March 2018 last week
• Next meeting Nov. 6
• CAD: OIS forward curve little changed on week
• First priced rate move, +25bp to 1.25%, Nov. 2015 from Dec. 2015 last week, pretty much in line with economists, who see first hike in 4Q 2015, unch. from last week
• Risks this week include housing starts, labor report, BOC Business Outlook
• Ivey report today 58.6 vs est. 52.5, high since Oct. 2013 and consistent with rebound since June
• Next meeting Oct. 22
• SEK: OIS 1-mo. forward curve little changed until 4Q 2015, higher through 2Q 2016, then lower
• Market prices first move, +25bp to 0.50%, for Sept. 2016 vs May 2016 last week
• Economists do not see hike before 2016
• Next meeting Oct. 28
• ILS: Swap curve lower, flatter on week
• Chance of from current 0.25% rate priced through Sept. 2015
• First fully priced move, +25bp to 0.50%, unch. from last week at Feb. 2016
• Economists more hawkish; maintain forecast of first move, +25bps for 2Q 2015
• Next meeting Oct. 27
• USD: OIS forward curve little changed along most of curve
• Forward curve prices first hike to 0.50% 3Q 2015 unch. from last week despite above-est. NFP report
• Median est. of private economists surveyed by Bloomberg keep projection for 1st hike to 0.50% at 2Q 2015
• Fed released labor market conditions index earlier today: 2.5 for Sept. from 2.00 for Aug.; in historically narrow 2.0-7.1 range since 3Q 2012
• Little data risk for remainder of week; Sept. FOMC minutes due Wednesday, plethora of Fed speakers
• Next meeting: Oct. 29
• NZD: RBNZ forecasters median est. first hike, 25bp to 3.75%, in 4Q 2014; they project another 50bp to 4.25% by 2Q 2015
• Recent NZD strength seen hurting domestic economy, RBNZ late Sept. revealed it intervened in Aug., sold largest amount of local currency in 7 years, sending NZD to 13-mo. low from July's 0.8836 YTD high
• ANZ said it is reviewing its forecast for 25bp rate hike in March
• Data risk this week from house sales, food price reports
• Next RBNZ meeting Oct. 29
• CHF: Forwards yields mostly higher
• Positive policy rate priced temporarily during 2Q 2015 and then permanently starting 3Q 2017
• 1st rate increase, 25bps to 0.50%, priced for 3Q 2019
• Next meeting Dec. 11
• NOTE: TJ Marta is an FX strategist who writes for First Word. The observations he makes are his own.