Just a a few points today; Frankly, the absurdities in Europe leave me speechless.
As long as European leaders do not realise that unless they loan funds to distressed peripheral nationals at below their nominal economic growth, it will be impossible to escape from the deflationist spiral, and European construction will continue to be in grave danger.
I will return to this topic later, but I prefer to hold off for the time being.
I would just like to make a point about the US situation, with the latest publication of Loans and Leases in Bank Credit (not quite in fashion these days, despite their importance!), as reported by American commercial banks (
code ALCLLLMB on Bloomberg).
The report is another slap in the face to our Austrian school hysterics,
 who never grasped the concept of fractional banking 
('loans make deposits') in a fiat money system and who persist in running round the same old circle, screaming hyperinflation! hyperinflation! the Fed's latest QE is creating hyperinflation!
Just because the QEs are bolstering surplus bank reserves to all-time highs does not mean banks are going to lend more or better!
The QEs certainly do not require them to do so; All they need is to do is find credit-worthy customers who wish to borrow money, two variables not always found in the same individual these days.
As such, total loan volume has contracted at an unprecedented rate since the statistics began publication, as you can see for yourself in the graph below.
In the worst cases, volume stabilised during the previous recessions tracked on this graph; This is the first time we have such such debt deflation, with a 12.3% contraction in credit since October 2008, i.e. a 6.2% annual decline!
US Loans and Leases in Bank Credit'
Debt Deflation, Deleveraging, call it as you like…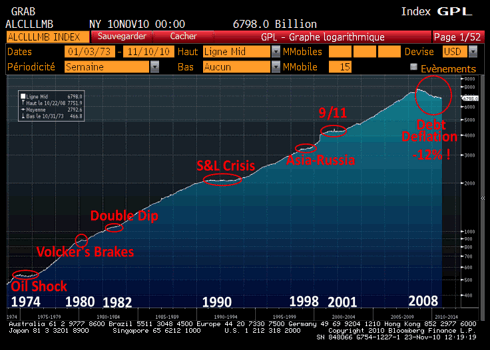 Asset allocation biases and advised option strategies
Ø
Bund, Bobl, Shatz
: 
Bear Flattening
, Schatz vs 10-year Bund. 
 On options basis, due to sovereign vibrations
!
Long December Schatz puts vs Bund puts (premium received, net delta short).
A nightmarish yield curve!
Ø
Eurostoxx 50
: 
Continue to bet on correction toward 2750/2700
. 

And even lower!
December puts 2700 or December put spreads 2800/2650.
Disclosure:
Long 20 years OAT and 30 years BTP Zero Coupons, EDF Corp 5 Years 4.5%, Grece 2 Y and 10 Y bonds, Thaler's Corner.