Out of due respect for Angela Merkel, I will not comment on her allocution, but a chart to illustrate the difference between talks and reality.
Merkel: New Crisis Mech To Affect Only Bonds Issued After 2013>
2010-11-25 14:54:57.793 GMT
BERLIN (NYSEMKT:MNI) - German Chancellor Angela Merkel on Thursday again stressed her determination to make creditors participate in future bailouts of Eurozone member states when the current EU rescue funds expire in June 2013, but she stressed that this will not apply to existing government bonds.
When creating a permanent crisis mechanism "one has to pay attention not to eliminate market mechanisms completely," Merkel said at a conference here. "We are all of the opinion that market mechanisms -- that is, for example, different interest rates -- can have a disciplinary effect."
Merkel acknowledged, though, that financial markets are currently very nervous.
"I want to make this very clear here: [we're talking] about the functioning of a future crisis mechanism, and not about bonds which have been issued under the current temporary crisis mechanism...which have a maturity beyond 2013," she explained.
"Rather, is about bonds issued after the temporary mechanism has run out in 2013."
One possibility to assure that investors carry part of the losses in future could be to include collective action clauses in government bonds, Merkel said.
"But I see at the moment no case at all of a Eurozone member state which could enter a situation which would make a restructuring [of its government bonds] necessary," the Chancellor said.
The stability culture in the Eurozone is currently better than before the crisis, she argued.
Germany has profited the most from the common currency, Merkel stressed. "That is why Germany is naturally ready to engage itself in solidarity for the euro," she vowed. "

Germany has an interest that the euro is a strong

, a lasting and an accepted currency."
European Sovereign 10 Year spreads vs. German Bund
Much worse than before all the rescue mechanisms…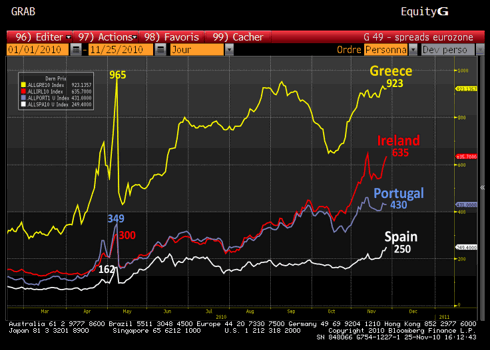 Axes et positions d'Options conseillées.
Ø 
Bund, Bobl, Shatz
:
Bear Flattening
, Schatz contre Bund 10 ans.
A base d'options, en raison des vibrations
souveraines
!
Long puts Décembre Schatz en secs ou vs Puts Bunds (créditeur en prime et avance en delta).
Ø 
Eurostoxx50
 :
Jouer toujours une correction vers 2750/2700
.

Et même plus bas!
Puts 2700 décembre ou Puts Spreads 2800/2650 Décembre.
Disclosure:
Long 20 years OAT and 30 years BTP Zero Coupons, EDF Corp 5 Years 4.5%, Grece 2 Y and 10 Y bonds, Thaler's Corner.