Orphanidès preached it, Riksbank did it!
13 July 2009
            How sad it is to return from holidays to the same old debates and same old tired arguments.
            While
Ireland
announced 5.4% negative inflation y-o-y (and not deflation, according to some), disastrous for a country in the midst of deleveraging (

Portugal

stands at -1.6%,

Spain

-1.3% and

Belgium

-1.1%),

we had the dubious pleasure of reading some new commentaires from Mr Trichet on our screens this morning...
            It is as if the Moliere's infamous (theatre) doctor were in charge of the European economy:
Bleed him, bleed him more!
A dead man is but a dead man, but a neglected formality brings prejudice against the entire medical corps. Better to die according to the rules than to escape against the rules. 
"Clysterium donare
Postea saignare
Ensuita purgare
Il doit jurer
De non jamais te servire
De remediis aucunis
Quam de ceux seulement doctore facultatis
Maladus dust-il crevare
Et mori de sue male"
            These quotes from
Moliere
simply express my reaction to the lack of responsiveness of the ECB, which continues to follow an extremely dangerous policy for the European economy and eurozone.

            When
Mr Trichet
declares that "inflation is good news, because it increases purchasing power", it just goes to show how far the ECB is from understanding the magnitude of the danger represented by a deflationist trap.  
            We earlier loudly applauded the establishment of the 1-year LTRO at 1% (Refi) and the covered bonds buyback plan, but does this excuse the current unnecessary delays and rigidity?
            What is the point in threatening banks for not re-injecting funds obtained from the ECB into the channels of the "real" economy, when these same banks face real leverage problems and are worried about their financial health in these troubled times?

            Mr Trichet himself recognises that the European economy will not recover before the second half of 2010 and that inflation will remain under control in the medium term.
            The ECB chief complains that banks continue to deposit as much money as ever in the ECB's overnight window, by taking advantage of the deposit rate, but hopes that
"this situation will adjust over time"
!

            The ECB has constantly refused to clearly explain why lower benchmark rates would be nefarious, but why not take the action of our Swedish neighbours, who are confronted with this same problem, as an example?
            Not only did the
Riksbank
injected SEK100bn 1-year at a 0.45% interest rate into the economy, which is better than our 1%, but its deposit rate is now at
-0.25%!

            We have long called for a negative deposit rate for the eurozone, so we are delighted to see the Swedes leading the way. Perhaps their example will have an influence on the guardians of the temple.
            Check out the graph, below, tracking the Swedish CPI and deposit rate.
CPI and Riksbank's deposit rate
Banks are much less interested in hording their funds in the central bank at this interest rate
…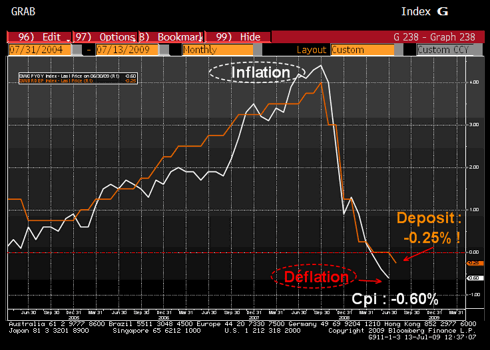 To conclude this short missive, let me cite Moliere via the words of
Doctor Diafoirus
, speaking of his son, who has also become a doctor:
"Well, I said, to myself, late-blooming trees produce the best fruit; We engrave on marble, with much more difficulty than we do on sand, but things remain longer, and this slowness in understanding, this heaviness in imagination, is the mark of good judgement to come.
He is strong in argument, strong as a Turk in his principles, never backs down on his opinion, and continues his argument to the far recesses of logic.
But of everything, what pleases me most in him, and where he follows my example, is that he blindly follows the opinions of our predecessors, and he has never wished to understand nor listen to the reasons and experiences of the so-called discoveries of our century relating to blood circulation and other opinions of the same stripe.
            Keep an eye out on
CIT,
this US financial firm in distress whose debt issues the FDIC has refused to back. Its $68bn in liabilities could generate turbulence, if a solution is not found soon.
           Corporate earnings reports in the US will begin this week, with
CSX
(railroads) today, followed by tomorrow by GS, Intel and Johnson & Johnson!
            As for our asset allocation focus:            
Less Positive on interest rates on eurozone government debt (2- and 5-year segment), with less potential as we crossed through our target of 1.25% on generic German debt. Unfortunately, hitting our goal of 1% would imply other dislocations which we hope will not occur.
Less Negative on stock market indices, as the 10% decline in the past month appears enough for the time being. It also fits in well with the suggested option positions below.
Still Negative Euro against the Dollar.
Positions:
Only blue, with the directional, implied volatility and time value all going in the right direction.
We don't really like the delta negative of the Schatz call ratio, but it implies a curve position with Bund option delta positive, which is hardly illogical at these levels.
Call Ladder 122 / 124/ 125 August
:

68

,
delta
+51%, theta 1.15

(

P&L +54

)

Third favourite
Call spread 107.30/107.90 August 1 by 2:
23
,
delta
-96%, long theta 0.08

(

P&L +17

).
Put ratio 2350/ 2150 against Call 2700 July
:
59
delta
-60%, theta 0.40

(

P&L +48

).
Second favourite
Put ladder 2400/ 2300/2500 against Call 2600 July
:
57
delta
-11%, long theta 6

(

P&L +46

).
Our 1st favourite
to contact me at any time.
Asset allocation and option strategy
22, rue des Capucines
75002 Paris