Following the numerous comments received on the 28 April Thaler's Corner ('It Takes 2 to Tango: The Fed and the ECB in a rivalry of bad faith'), which was picked up by Bloomberg in its Fed and ECB columns, I looked deeper into the subject matter and have come to the conclusion that my parallel between the 
Fed
 and the 
ECB
 does not quite hit the nail on the head.
It is true that the two central bank are engaged in two different roles, with the ECB taking a harder stance in Europe and the Fed in the United States and many other central banks following very accommodative monetary policies, as illustrated in the graph below.
Indeed, the
United Kingdom
 and 
Japan,
 the two other economic pillars of the developed world, are maintaining benchmark interest rates at rock bottom levels, as the ECB almost alone continues to promote restrictive monetary policies.
Some will respond by pointing out that Canada, Sweden and Australia have also adopted more restrictive monetary policies in recent months, but their economies are exposed to commodity markets and the economic overheating fuelled by the recent surge in commodity prices required a tightening of monetary policy in those countries. In any case, their economies are either too small, as a percentage of worldwide GDP, or their currencies do not have sufficient weight to significantly impact the rest of the world.
As for emerging countries, like China, Brazil and Vietnam, which just upped interest rates this morning for the fifth time this year, to 14%, that has nothing to do with the
eurozone
. The latter area is hardly undergoing the same sort of steep economic growth, but instead faces a huge output gap, with an average unemployment rate of 9.90 and an industrial production utilisation rate three percentage points below the average non-recession rate.
The latest report from the Market News  agency seems to confirm that our beloved central bank just can't wait to get started! It may, according to MNS, even hike rates again this June, instead of July, as previously expected, and by as much as 50 bps! (we don't adhere to this scenario though) It is hard to believe that those responsible for monetary policy woudl be so determined to engage in creative destruction of the single European currency, but given Trichet's continued defense of his disastrous rate hike of July 2008, a continuation of such wrongheaded policies should come as no surprise.
One of the reasons I decided to rehash this topic and provide the graph below, which compares the performance of 6-month treasuries in Germany (euro benchmark), with those of the United States, the UK and Japan, is the incredible T-bill issue yesterday evening in the United States.
The US Treasury issued $28 billion in T-bills at the whopping rate of … 0%!!
No, there is nothing wrong with your screen, which needs not adjusting! Remember, we are talking about a country that has just been downgraded to Negative Outlook by S&P. They also issued 1-year debt at 0.19% and 3-month at 0.01% !
As you can see in the graph, the same trend is observed in the United Kingdom, at 0.37% on 6-month debt, down from 0.70% just a few weeks ago, and in Japan, 0.12%, without any chance of a hike following the BOJ injections in the wake of the Fukushima tragedy. In the United States, the rate fell to a record low 0.08%.
In the meantime, since
Mr Trichet's
well known comments of 13 January, the interest rates European states must pay to finance their budget deficits have been continuing rising, with the 6-month rate climbing to 1.17% this morning from 0.50% at the beginning of the year.
So let's review Trichet's remarks at the ECB press conference of 13 January and later to German TV station ZDF, just in case his message has gone unnoticed. (By now, I wonder if he is not looking for a nice little retirement in the Black Forest)
·
"Very close monitoring is warranted." 
(code language indicating rate hikes ahead, with "mission accomplished" 7 April, given the first 25-bps rate increase).
·
"Proved in past not pre-committed, by deeds not words". "Remember in July 2008, we judged appropriate to hike rates". (help!!)
·
"The European Central Bank will do everything to ensure price stability; including hiking interest rates should that be required."
6-month sovereign debt yields: Germany vs US, UK and Japan
The empire strikes back 
This super antiquated monetary approach, recalling the gold standard days, is increasing considerably the debt costs of eurozone countries. At a time when countries are trying hard to reduce spending, under pressure from German leaders and credit rating agencies, this new surge in their interest payment expense item is bad news indeed.
Bear in mind that from the standpoint of a government's solvency, it is not total debt-to-GDP that counts, but the ratio between a government's total receipts and interest expense. It is for this reason that I have repeatedly suggested indexing the rates paid by PIGS nations dependent on bail-outs at the 3-month Euribor rate to prevent the ECB from further messing things up.
Others certainly go along with this line of reasoning, such as BOE chief, Mr 
King, who declared yesterday at the European Parliament: 
·
"
The economic consequences of high-level indebtedness now would become more severe if rates were to rise, It is the main reason why interest rates are so low.
"
·
"
The problem of leverage, the sheer volume of debt in the economy, is still very large and this poses massive macroeconomic challenges". "I think these macroeconomic challenges will last many years
."
But that's not all! This widening spread between between the risk-free rates paid for short-term eurozone treasury instruments and those of its major trading partners is having a direct impact on the euro exchange rate, as you can see for yourself in the following graph. And that's leaving aside the more attractive rates on 6-month instruments of eurozone government issuers deemed a bit less solid than Germany, like Belgium 1.37%, Austria 1.53%, Italy 1.66%, Spain 1.75%, Ireland 5%, Portugal 6.30% and Greece 7%.
Since 13 January, the euro has been going in the same direction: from 1.29 to 1.49 vs the dollar, from 0.83 to 0.90 vs the pound sterling and from 107.22 to 120.80 vs the yen. I realise that German exporters are insensitive to the euro's parity, given the level of their product differentiation, but this is a huge blow for PIGS nations as they lumber under the weigh of draconian austerity plans and an exceptionally high unemployment rate!
Whether it be the Portuguese economy, which suffers from weak product differentiation (textiles and agriculture), that of Greece, which is taking the full brunt of the euro's appreciation (shipping, tourism and agriculture), or that of Ireland, which is suffering as its English neighbours take advantage of their competitive edge, the current hike in the euro is deadly.
Euro vs the dollar, pound sterling and yen
Who do we thank?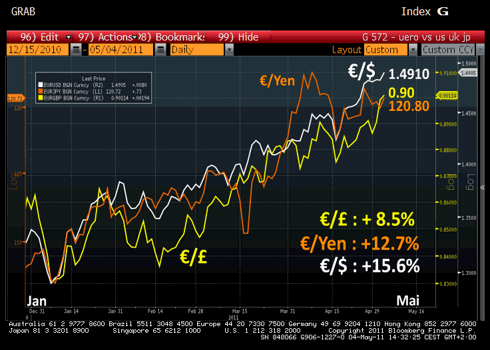 All this (and more) would be justifiable if only a series of interest hikes by the ECB could grow cotton, extract more oil (while preventing the Saudis from exacting their price) or dig up more copper.
T
he only
consequence
 of this deformation of monetary policy will be the continued
appreciation of the euro and the impoverishment of the eurozone member states
 via a bloating of their debt financing costs.
However, there
should be no need to really punish European states, even from a monetarist standpoint, as can be seen in the last graph below.
This morning, eurozone retail sales for March were published. Expected at 0% YoY, they declined-1.7% !
We are now back to negative movements equivalent to those of 2008-2009, which is hardly surprising. Given all the media reports of the crumbling of the Monetary Union and the upcoming breakout of new bail-out request, it is hardly surprising that consumers are cautious.
If the ECB were to focus a bit more on the major aggregates, it would worry instead about the continuous decline in consumer credit, as seen in the graph, down 0.90% YoY. They have been in continuous decline since the spring of 2008, something that we did not even see in the slump of 2003.
Retail sales and consumer credit on the eurozone
Right: what a great time to increase interest rates!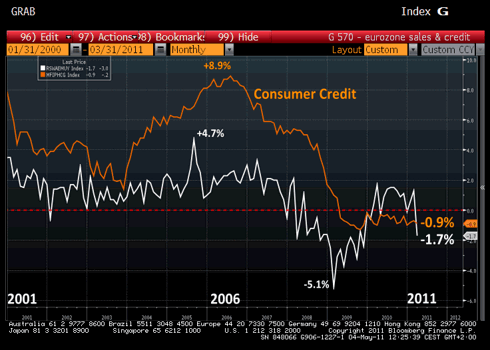 That makes for a pretty sad situation, but here are two links that help us laugh it off:
Mr 
Trichet dances all by his lonesome:
The ECB dances alone in the concert of nations:
Disclosure:
I have no positions in any stocks mentioned, and no plans to initiate any positions within the next 72 hours.
Additional disclosure:
Long 20 years OAT and 30 years BTP Zero Coupons, EDF Corp 5 Years 4.5%, Grece 2 Y and 10 Y bonds, Thaler's Corner.