Some of the things I have heard in recent days leave me utterly speechless, which explains my absence in the first half of this week.
It would appear 
that I now completely stand by myself with my AIG-style bail
-out solution (extension of debt maturities, collateralisation, reduction in nominal interest rates as opposed to restructuring) 
to save
 Greece (
and the eurozone
?), although I still see no other 
non-destructive 
remedy for this situation. 
I must admit that I was bitterly disappointed to read of Martin Wolf's conversion to the belief in the inevitability of early restructuring in his FT opinion piece two days ago: « 

The Euro Zone's Journey to Defaults 

».
I ma
y be alone (and stuck with my Greek government bonds) on this question, but I'll get over it. 
I went through much of the same in H2 2007, the major difference being that no type of macroeconomic analysis has any bearing this time around, as the matter has fallen into the highly unpredictable domain of politics. Of course, nothing stops us from developing our own opinions, but contending with political swings is quite a bit more volatile than economic analysis.
I have thus decided to return to fundamentals today, given the giant Austrian School wave:
·
The Tea Party in the
US
 is fuelling popular hysteria about unsustainably high government deficits, with Paul Ryan proposing plan made for fantasyland(NY Times : 

Paul Ryan's Multiple Unicorns

).
·
The slew of
austerity
plans in eurozone peripheral nations, which will guarantee that they remain in a deep recession characterised by persistently high unemployment for a long time to come (

Can PIIGS Dance the Austerity Two-Step?

).
All these austerity plans are being set up 
to fight mounting 

government debt loads

whose exponential growth, leaders inform us, would imperil countries by either pushing them to bankruptcy (default), hyperinflation or the crowding out of private-sector initiative. 
So let's take a closer look at each one of these alarming assertions.
Deficits and interest rates
Deficit growth will push up interest rates
 and thus lead governments to default on debt, once the part of government spending dedicated to interest payment becomes unsustainable. Before we start, bear in mind that it is interest payment/GDP that is the key ratio, not debt/GDP.
From a theoretical standpoint, this assertion does not account for the fact that budget deficits mechanically creates private savings (be it in the country itself or abroad) denominated in dollars (in the case of the US) which is then invested, either in government debt instruments or ends up in surplus bank reserves, which, in fact, pushes rates downward
!
Moreover, such an assertion ignores the reality that it is technically impossible to force a country with currency sovereignty into debt default, since its debt obligations amount to promises to pay credits in its own currency whose marginal production costs is zero!
As you can see in the graph below, which compares US budget deficits with interest rates paid on 5-year government bonds (average maturity on US government debt) since 1971, this assertion is flatly contradicted  by reality of past performance.
During phase, 1, 3 and 5, which were periods of periods of deficit growth, interest rates declined. At the same time, interest rates increased during phases 2 and 4, when budget deficits declined. This illustrates that the budget deficit's level, like that of interest rates, in reality depends on the level of economic growth.
American budget deficits and interest rates on 5-year government debt
Perha
p
s even be a negative correlation!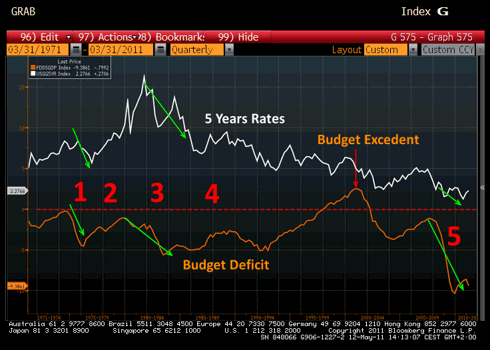 According to those who push austerity, come Hell or high water, deficits create inflation, either due to the economically inefficient government spending or due to the monetization of public debt by central banks.
Aside from the crude and approximate usage of the term, monetization, bear in mind that the extraordinary measures taken by the Fed, the BOJ and the BoE represent, in fact, an asset swap in investors' balance sheets between bonds and cash, which end up in the Fed in the form of surplus reserves. In any case, these reserves are useless for commercial banks and do not create more lending (loans create deposits
!). 
For that to occur, there needs to be real credit demand, which meet the credit requirements stiffened considerably since 2007.
If central banks directly paid off government expenses by real money creation, we would indeed be confronted with monetization and the risk hyperinflation to the extent that the other inflation factors are present (absence of output gap, inflation expectations, etc.).
In any case, from a theoretical viewpoint, the graph shows that there is no relationship between inflation and deficits, other than a somewhat negative correlation, as seen in all five phases.
Inflation is also much more dependent on growth than on anything else. When growth collapses, budget deficits rise (automatic stabilisers). Under such situations, it is hard to see the slightest inflationary surge.
Core PCE and budget deficits
Perhaps even a negative correlation!
Deficits and crowding out
The very construction of this phrase is stupid, since a hike in a country's budget deficit automatically creates wealth of private-sector economic agents!
Remember: Pr = Cc + I + Def + Bal – Sw, i.e.                                                                           
After-tax company profits =  Consumption fuelled by capital income + Investments + Budget Deficit
+ Trade Surplus  – Employee Savings.
So instead of following the Austrian hearse, so full of morality but so devoid of life, check out this last graph, which compares interest rates paid by firms with a high grade investment rating in the US with budget deficits.

Surprise! surprise! As you can see, the results run totally contrary to the "crowding out" crowd which 

Investopedia

 defines as:
"Governments often borrow money (by issuing bonds) to fund additional spending. The problem occurs when government debt 'crowds out' private companies and individuals from the lending market.
Increased government borrowing tends to increase market interest rates. The problem is that the government can always pay the market interest rate, but there comes a point when corporations and individuals can no longer afford to borrow."
Here we have a case of reality contradicting a very commonly held view: budget deficits decline and interest rates increase, but when they skyrocket, interest rates decline.
High Grade Corporate Yields and budget deficits
Aside from the cash crunch at the end of 2008/beginning of 2009, interest rates paid by corporations have been declining as budget deficits mount!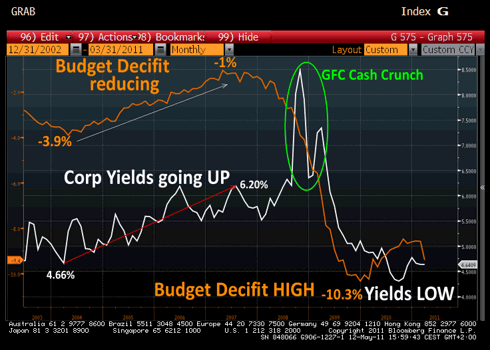 Western economies have now
launched austerity plans to boost growth
, and I fear that the path taken will lead us to some very
painful surprises.
However, given that this topic touches on some very personal opinions and values, I will not go any farther today. My purpose was just to provide some figures and graphs to debunk some very popular ideas in the hope that it may prevent you from falling victim to them and their consequences.
"There have been two approaches [to boosting the economy]: the European way aimed at combating inflation and the US stance which is aimed at growth, and I like the US approach better".
"The austerity measures that we have seen are having a damaging impact on growth."
Disclosure:
I have no positions in any stocks mentioned, and no plans to initiate any positions within the next 72 hours.
Additional disclosure:
Long 20 years OAT and 30 years BTP Zero Coupons, EDF Corp 5 Years 4.5%, Grece 2 Y and 10 Y bonds, Thaler's Corner.