Currently, there is a lot of newsflow - especially in mainstream media - that many stock indices are at all time highs. I am giving my view out of Germany (Frankfurt to be specific): Out of nowhere experts come out and seem to find themselves smart comparing current levels with the year 2000 bubbles. This is a simple exercise for them. Compare the German DAX on May 3rd, 2000 (7,960 points) with DAX yesterday on June 12th, 2017 (12,690 points). This is a 60% higher level so feel free to scream: BUBBLE!
But, I suggest taking a deep breath and just looking at it from a very simple perspective, i.e. enterprise value over forward EBITDA. Sounds simple to people operating in the financial industry, but I bet that many experts still get nervous from newspaper headlines calling out bubble territory. Let's take a look at the inverse of EV/EBITDA: EBITDA/EV or as I like to call iit EBITDA yield. It's more visual when comparing across assets. Let's take a look at the past 15 years for DAX (Germany), CAC40 (France), FTSE100 (NASDAQ:UK), FTSE MIB (OTCPK:ITALY) and Russell2000 (NYSE:USA). I plot 15-year records of government bonds for the same countries.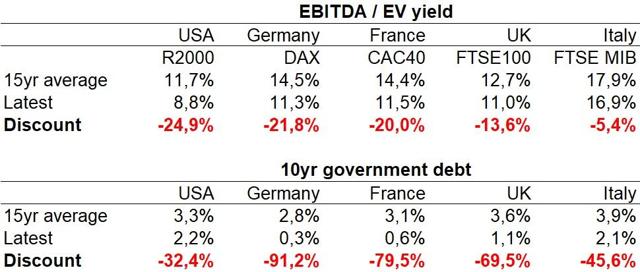 While EBITDA yield does show reasonable discounts, the discounts on government bond yield is massivewith Germany and France leading the pack at 91% and 79%. This sheds a new light on "inflation"in the equity markets. This is not a recommendation to blindly throw all the money into equity indices, the point is just that bubble territory in equities look a little bit different. Central banks, however, are sure to keep blowing more hot air into that fragile credit bubble. By the way, current bitcoin price is 420% over its 3-yr average. Now, even Nelly would start sweating over that one...
Follow me on frankfurtvaluekid.wordpress.com
Disclosure: I/we have no positions in any stocks mentioned, and no plans to initiate any positions within the next 72 hours.