I want to start off by highlighting our progress: To summarize, Sesen Bio (SESN) has reached and exceeded accomplishments for the year of 2018. I will explain why this is so below:
(1) Based on FDA guidance - Vicinium has resulted in a 42% COMPLETE RESPONSE rate. This means almost half of the patients had no more cancer!
To help introduce the readers to this drug, we should first start off with some basics. That is, the significance of a "complete response." A complete response, as defined by National Cancer Institute, is:
"The disappearance of all signs of cancer in response to treatment."
- SESN's phase III study is entitled VISTA. It is a single arm, phase III, registrational trial of Vicinium in BCG-unresponsive NMIBC. Yes, I said "registrational" - since this trial will most likely be the first drug used for NMIBC. There is NOT even a comparative arm in the trial since there are no existing drugs for NMIBC as of yet. 
- This trial began in August of 2015. (Vicinium Treatment for Subjects With Non-muscle Invasive Bladder Cancer Previously Treated With BCG - Full Text View - ClinicalTrials.gov) 
- This time frame means that the company has a pretty good understanding of the drug, including it's impact, it's side effects, and it's benefits.
- Data was reported back in May of 2018: PHASE 3 REGISTRATION TRIAL FOR NON-MUSCLE INVASIVE BLADDER CANCER ACHIEVES 42% COMPLETE RESPONSE RATE AT THREE MONTHS IN CARCINOMA IN SITU PATIENTS. 
(2) This trial has been run very differently than the prior phase 2 trial, (which nevertheless also exceeded expectations). In short: there is a maintenance phase distinction, as shown below:
Induction - 30 mg of Vicinium in 50 mL of saline administered twice weekly (BIW) for 6 weeks followed by once weekly for 6 weeks, for a total of 12 weeks.
Maintenance - 30 mg of Vicinium in 50 mL of saline administered once weekly every other week for up to 104 weeks.
Previously, the drug's maintenance dosing was much more limited in the phase 2 trial -  Maintenance dosing in which 30 mg of Vicinium is administered once weekly for 3 weeks followed by 9 weeks of no therapy. No therapy for nine weeks! That was a big mistake, which was corrected in the current trial.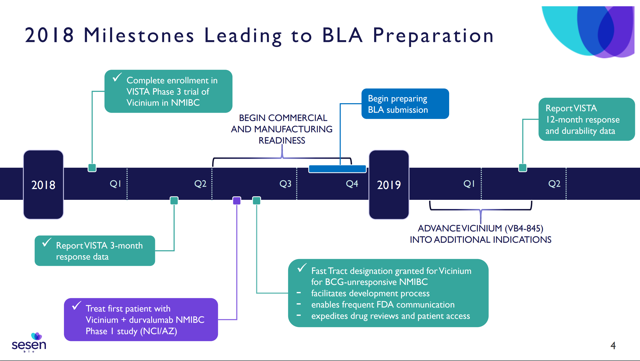 (2) Commercial and Manufacturing Readiness - Goal met! 
- On October 4, 2018, the Company entered into a Master Bioprocessing Services Agreement (the "Fujifilm MSA") with FUJIFILM Diosynth Biotechnologies U.S.A., Inc. ("Fujifilm"). The Fujifilm MSA provides the terms and conditions under which Fujifilm will provide certain manufacturing and supply services related to the Company's most advanced product candidate, VB4-845, also known as Vicinium, for the treatment of high-grade non-muscle invasive bladder cancer. The Fujifilm MSA is designed to facilitate a transfer of the bulk drug substance form of Vicinium manufacturing technology from the Company to Fujifilm.
(3) SESEN BIO TO HOST CONFERENCE CALL TO REVIEW UPDATED VISTA TRIAL DATA IN NON-MUSCLE INVASIVE BLADDER CANCER
CAMBRIDGE, Mass.--(BUSINESS WIRE)--Dec. 27, 2018-- Sesen Bio, Inc.(Nasdaq: SESN), a late-stage clinical company developing targeted fusion protein therapeutics for the treatment of people with cancer, today announced that company management will host a conference call on Thursday, Jan. 3, 2019 at 8:30 a.m. ET to review updated data from its Phase 3 VISTA Trial of Vicinium™ for the treatment of patients with high-grade non-muscle invasive bladder cancer who have been previously treated with bacillus Calmette-Guérin.
Sesen Bio to Host Conference Call to Review Updated VISTA Trial Data in Non-Muscle Invasive Bladder Cancer | Sesen Bio
(4)  CT ORDER FILED December 6, 2018 ORDER GRANTING CONFIDENTIAL TREATMENT UNDER THE SECURITIES EXCHANGE ACT OF 1934. 
BREAKING DOWN Confidential Treatment Order - CTO
Companies would typically seek a confidential treatment order (CTO) to keep information secret that would otherwise put it at a competitive disadvantage if revealed. A company would seek the confidential treatment order by filing a formal request, a confidential treatment request (CTR), with the Securities and Exchange Commission (SEC).
Example of a Confidential Treatment Order
For example, a company may apply for a confidential treatment order by completing a confidential treatment request to keep information regarding a pricing arrangement made with a potential acquisition target secret. This request could be made on the basis that the company's competitors may use this information to go after the target with a more competitive price. Other common items kept confidential include milestone payments and other technical specifications.
- An acquisition, licensing deal, or merger is, in my opinion, in the works. 
Conclusion:
I want to end off strong. Let me tell you why. According to the company's press release as well as presentations, 12 month data on vicinium was not supposed to be released until mid 2019. So why release updated data earlier. I think you get the message. I think the maintenance dosing has really impacted the cancer in a profound and effective manner. 
Make sure you get in before it is too late. 
Disclosure: I am/we are long SESN.
Additional disclosure: I think this company is a very lucrative, once in a lifetime opportunity. The clock is ticking so join the train if you want the opportunity. Good luck!