Food costs continue to soar with food costs up 1.5% this past month. If these costs continue each and every month or, god help us, begin to accelerate, food costs will begin to be an impossible part of consumers monthly bills. Is inflation finally coming home to roost or are we about to enter stagflation. Since our wonderful congress continues to think that assigning additional tasks to the bridge makers and road crews is creating jobs, I expect unemployment to remain very high for a considerably long period of time. 

In anticipation of what I expect to be stagflation I decided it was time to come up with some real solutions for feeding ourselves if such an event actually comes about. Mind you this is for "Only just in case" scenarios.

First I suggest everyone purchase a copy of the following cookbook before supplies run out.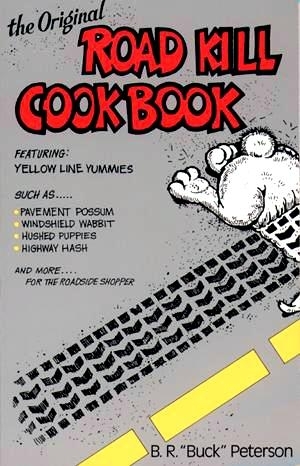 This book can be purchased at
http://www.buckpeterson.com/original.html
The next item that most of you may wish to purchase is a grill guard for your vehicle. No longer will hitting a deer be a bad thing unless of course the critter gets away. Smaller critters can be bagged with your vehicle tires or underside of your vehicle with out damaging your vehicles front end. Practice, practice, practice.

Grill guards can be purchased at
http://www.grilleguards4less.com/
One can only hope that these ideas will assist all of us in acquiring food for the table and the recipes for the proper preparation of said food during tough economic times.
Disclosure: This article is tongue and cheek. Unless things get really bad then there is a recipe for tongue in the book and quite possibly cheek meat too!!!!
This just in for Thanksgiving. 
http://www.aolnews.com/weird-news/article/serve-roadkill-instead-of-turkey-on-thanksgiving-says-hunter-buck-peterson/19717289?test=latestnews
Disclosure:
No positions in book or grill guards.