GOLD REPORT
Fundamentals:
COMEX Gold finished lower this week (07/18/2014) from the first time in continuous rally in past six weeks. Gold dropped 1.68% to close at 1310.40 backed by an overall improved labor market report released on Thursday supported with an improved manufacturing report.
The most important part of an economy is simply employment. The unemployment statistic is one of the most important numbers being studied by the Federal Reserve Bank. Their attempt to influence growth in the economy can only be proven out by growth in employment. This is because a growing economy means the need to produce more and in all cases increase hiring. But all the liquidity that is being added by the Federal Reserve Bank, even though it has plainly worked to boost the gold price over time, has had little effect on unemployment. Because most of the money is not reaching the economy, or the people in the private sector.
Often times we read that the unemployment rate has dropped. But unfortunately it is the Labor Force Participation Rate that has dropped at a greater rate. So the real unemployment rate is higher than what is reported. Because the participation rate is the barometer that shows how many people looking for work have lost faith that they can find full-time employment.
The Unemployment claims for the next week is expected to increase which would have a direct impact to the price rise in Gold. The unemployment claims may rise from 302k to 315k i.e. more than 4% increase is expected.
Technical Report:
GOLD COMEX CHART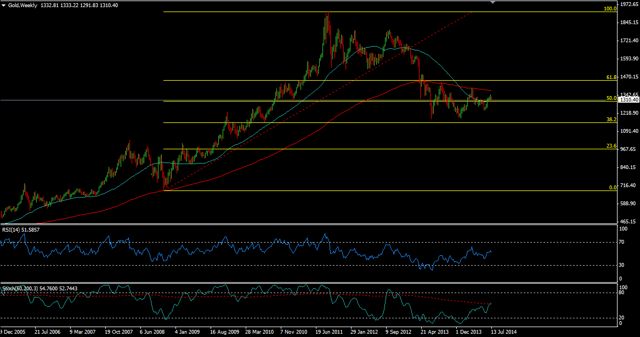 Gold is in consolidation phase for more than last one year between the range of 1170-1450. It is sustaining above 50% retracement level 1310 and also taking support at the 50 week exponential moving average at the same.
Gold is expected to bounce from the retracement level of 1310 up to the level of 1375 which is the 200 week exponential moving average level. Later if it is able to sustain above the level of 1375 Gold might test the 61.8% retracement level of 1450.
RSI of Gold is also trading with positive bias at 50 and is expected to further move to its resistance level of 70.
Stochastic is also indicating bullish trend in Gold as %K(50) has crossed over %D(200) level.
Overall COMEX Gold is looking bullish on chart with positive fundamentals. It is sustaining above 1310 level and is expected to test the level of 1375. Further breaching this level with positive sentiment it might test the level of 1450.