Please read important legal disclaimer on my blog and slideshare presentation for TNR Gold Los Azules assets.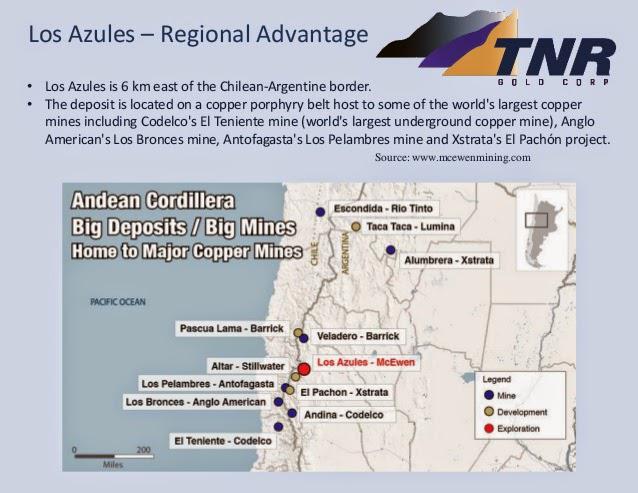 It looks like we can have finally Hot Copper M&A winter in Argentina! Lumina Copper hit 52 week high at CAD7.47 yesterday rising from the recent Low by the end of March at CAD4.60. Please do not get too exited and rush with any decisions here. Yesterday's breakout was on a low volume, but volume was rising in the last few weeks.
It is important to remind you that you should carefully study my legal disclaimer and in NO way treat any information provided here as an investment advice or any facilitation for any action. Always do your own Due Diligence and consult with your personal financial adviser. Manipulations are rampant in the junior mining. I am not only following all BCSC and TSX Exchange Communication Policy Rules and Guidance, but strongly against any fraud and manipulation in the markets personally and you can support me by reading and sharing my posts. I put my money where my mouth is - I live, breath and go to sleep with my companies business in mind - and I can be deadly wrong:
I Vote To End Gold Manipulation: FSA Fines Barclays For Manipulation Of Gold Price - Join Me.
"My personal vote is nothing, but if I am not alone it will be finished one day. Please donate your tweet for the good cause and share this post if you want to change it as well. Read more."
Market Manipulations, NI 43-101 And How The Honest Person Can Survive In Junior Mining.
"Now you can understand why we can't talk about a lot of technical details in such a great project like Los Azules Copper. McEwen Mining is the Operator of this project and we have our Back-In right, but our technical 43-101 qualified person was not able to check all the relevant information first hand. We rely on all information provided by McEwen Mining within 43-101 Rules. These are the tricks we have to be in compliance with. And there is no problem with it. Rob McEwen has done a great job developing the project into what he calls "One Of The Largest Copper Deposits In The World" and today you can participate in McEwen Mining Conference Call and find a lot of information on McEwen Mining website. I have already discussed Los Azules Copper Back-In Right here and I would recommend to contact Jim Mustard VP at PI Financial to get more information about Los Azules Copper project and our Back-In Right Asset. Read more."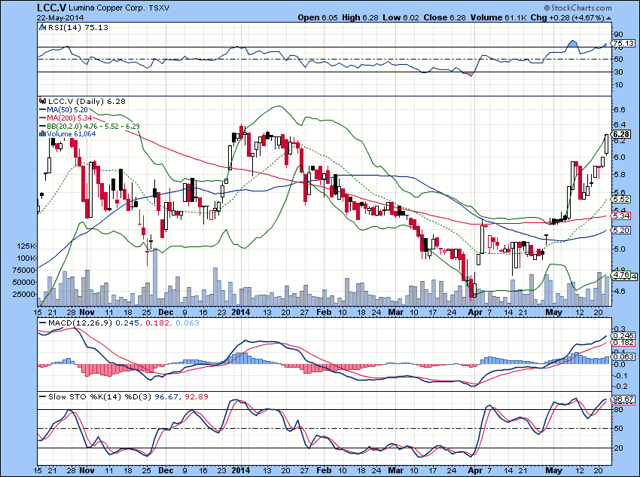 The winter is coming, but investors' hearts are warming up to the best Argentina's mining stories. I will not jump here to any conclusions: whether this action is ignited byBarrick Gold's Pascua Lama developments or particular news coming with Lumina Copper. Taca Taca copper project is for sale and somebody is buying shares now. Let's wait for the official news from the company.
In any case this development is very encouraging for all of us involved in mining in Argentina and proud hard working people living there deserve much better economic progress. Maybe we are witnessing the beginning of such change. Political risk perception yesterday can be translated in the value catalyst tomorrow. It will be very positive for our International Lithium Mariana Lithium Brine project development with Ganfeng Lithium now as well.
Is my Tenke Fungurume experience in DRC with Lukas Lundin coming here back for Los Azules in Argentina? We will see very soon, hopefully. He has taught me that governments come and go, that political situation and its perception can change on a dime for better or worse, but you cannot "print", QE or find new world class copper projects overnight. We have seen the bad all together already, I am very encouraged that the mining cycle is turning now.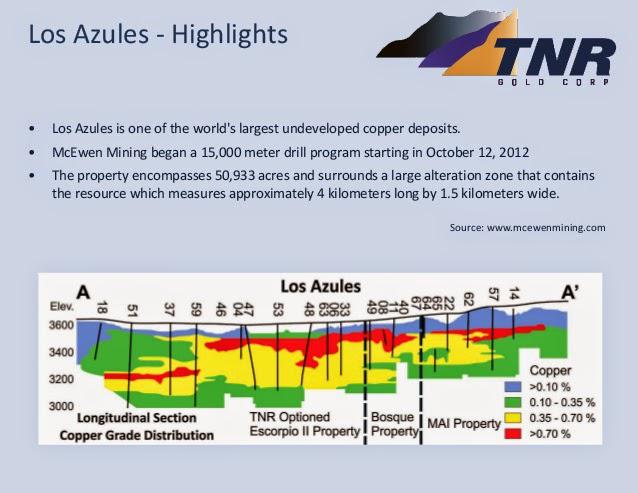 China Is In The Hunt For Copper: Guangdong Rising Bids $1 bln For Copper Miner PanAust
"Now we can together appreciate a little bit more M&A market observations I have shared with you couple of days ago:
"... the rumours of collapse in China are greatly exaggerated in the West, to the benefit of ... China. China buys record amount of Gold as well as Copper projects all over the world like Las Bambas and looking at others using the "soft market environment".
China continues its buying spree of copper assets all over the Globe: last month the huge Las Bambas copper project in Peru was bought by Minmetals Group for $5.85 B and now Guandong is bidding for PanAust. Reuters reports on the deal and you can notice how the activity in M&A by Chinese companies is picking up during the "soft market". It is the very important indication of the major bottom in the mining cycle: it is cheaper "to dig" for Copper and Gold on the Stock Exchanges now, when valuations of assets in the ground of listed companies are discounted by the depressed mining markets. Read more."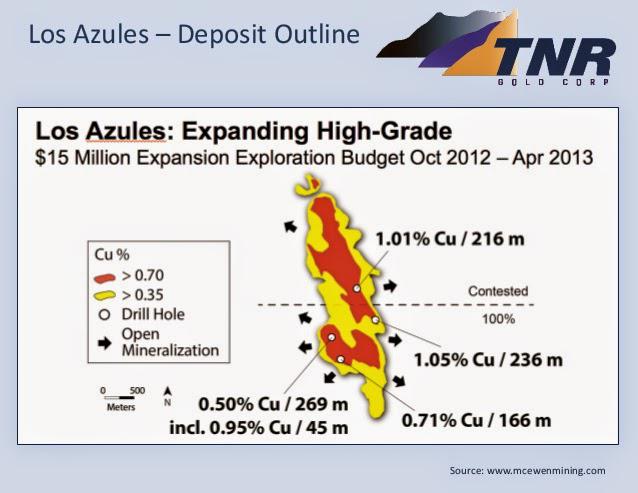 Any excitement and emotions are nothing in the cruel investment world before investors will start to vote with their money. In any case this development will put Argentina copper projects back onto the industry and investors radar screens.
Please, do not translate this particular story into any other companies' prospects - all projects are different. If you are interested in Los Azules Copper give us a call and study TNR Gold website - I am here to talk to you.
TNR Gold: Los Azules Copper Project In Argentina - Barrick Gold Seeks To Restart Pascua Lama.
"As you remember, Los Azules Copper project is located in San Juan province in Argentina. Barrick Gold's Huge Pascua Lama project is located in the same province on the boarder of Argentina and Chile. This ongoing development will be very positive for Argentina mining and Los Azules Copper project, providing the potential catalyst to TNR Gold.
"Copper M&A, Mining In Argentina And TNR Gold's Los Azules Copper Back-In Right.
Particularly important for Los Azules Copper Project are the efforts by the government of Argentina "to overturn Barrick Gold's Pascua Lama freeze in Chile." Both projects are located in the same San Juan province in Argentina which is considered to be one of the most mining friendly in the country. You can find more about our Los Azules Back-In Right in the presentation below and you can always contact us to discuss it."
"The sale of our Back-in Right will provide the necessary liquidity and catalyst to all of our group of companies. Rob McEwen has done a great job as Operator developing this project and now Los Azules is at the top of the list of the best copper projects in the world available for sale, according to PI Financial! I would recommend to contact Jim Mustard VP at PI Financial to get more information about Los Azules Copper project and our Back-In Right Asset."
TNR Gold Investor Presentation March 2014 from Kirill Klip