Please visit my blog for legal disclaimer, videos and presentations:
http://kirillklip.blogspot.co.uk/2014/06/international-lithium-ganfeng-lithium.html#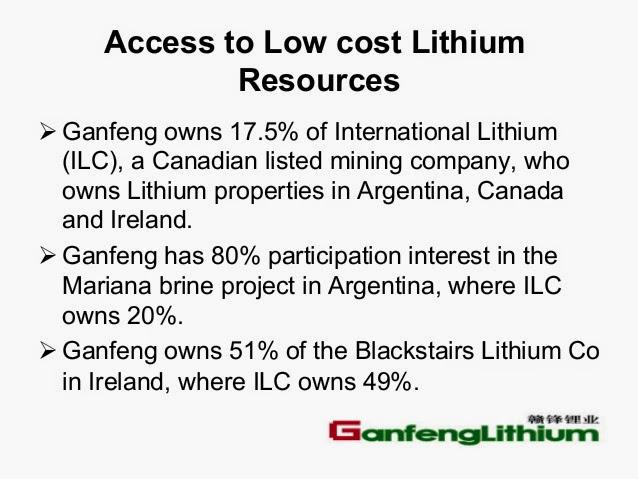 I have the public report from China to share with you today. Our strategic partner Ganfeng Lithium has announced this week the major acquisition in China in order to build The Vertically Integrated Lithium Battery Business. It is the very exciting time for Electric Cars with Elon Musk giving this market another ignition with his Open Source move. Mobile Devices is another very fast growing market and I am looking forward that our Lithium projects will deliver the further confirmation of their economic potential to become in the future the raw materials supply base for this Vertically Integrated Lithium Industry Chain.
Please read carefully my legal disclaimer and Do Not rely on any information provided here in your investment decisions. This information, particularly provided from the third parties, could be incomplete, misleading and not up to date. Always consult your qualified investment adviser before making any decisions. You can find more information on our website: International Lithium Corp.
Ganfeng Lithium (002,460) Acquisition of lithium battery company to build the whole industry chain
"Jiangxi Feng Li (002460) Co., Ltd. on June 9 announcement, the company intends to acquire 400 million yuan in Shenzhen City, the U.S. worship Electronics Limited (hereinafter referred to as the United States thanks to e) 100% equity.

It is understood that the United States thanks to electronic is a leading manufacturer of lithium polymer batteries, polymer lithium ion battery focused on the development, production and sales of its lithium-ion polymer battery safety around high reliability, shaping flexible, high energy density , light and other performance characteristics for smart tablet PCs, smart phones, laptops, mobile power system provides three industry solutions. U.S. Baidoa Electronics and Hisense, TCL [microblogging], Cool, BYD (002594) and other downstream customers are large a partnership according to the lithium industry Engineering Research Institute (GBII), the U.S. Department of China in 2013 thanks to the electronic soft bag lithium polymer battery output fifth largest enterprises(www.wantinews.com/). announcement shows that the United States gives thanks to electronics 2014-2016 The performance commitments, respectively, to achieve a net profit of not less than 36 million yuan, 46.8 million yuan and 60(Finance News www.wantinews.com/).84 million yuan.

Ganfeng Lithium company is the most complete variety of lithium products, product processing chain is longer, more comprehensive technology professional manufacturers, is the lithium deep processing products enterprises. Along with tons of lithium salt project capacity gradually put, lithium carbonate and lithium hydroxide production capacity has increased dramatically. Upon completion of this transaction, the company's lithium industry chain will be further extended to the field of new energy polymer lithium-ion battery industry, with the company's existing businesses to form lithium complementary strengths, which for promote industrial chain extension and upgrading of the industrial chain structure, build the whole industry chain leader of great significance.

(Source: Xinyu Daily)"
International Lithium Presentation May 2014 from Kirill Klip
"International Lithium: Presentation Of Our Strategic Partner - Ganfeng Lithium.
I would like to share with you today the presentation about our strategic partner from China - Ganfeng Lithium. This partnership is the very important step for International Lithium and solidifies our business relationships. This company is one of the top Lithium Materials producers in the world. We have the new page on our website devoted to our strategic partner and you can follow the link for more information.
Ganfeng Lithium has developed technology to process the raw materials that we aim to produce and has an expanding customer base world-wide for their finished products. This Vertically Integrated Business structure gives International Lithium security in the market and expertise for materials processing side of future feasibility studies. It also gives International Lithium confidence in moving the projects forward as our partner is actively pursuing vertical integration within their business model. Read more."
International Lithium: Presentation Of Our Strategic Partner - Ganfeng Lithium May 2014 from Kirill Klip
Disclosure: The author is long TRRXF, ILHMF.