Please visit my blog for legal disclaimer, videos and presentations:
http://kirillklip.blogspot.co.uk/2014/06/tnr-gold-los-azules-copper-and-m-in.html#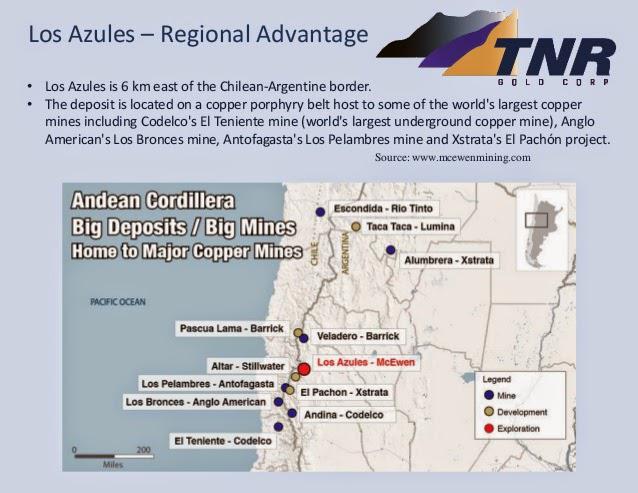 I will be monitoring the developments today. Lumina Copper was hitting 52 week highs recently and maybe today we will have the better picture of what is really going on over there. I do hope that we all deserve the positive news. You can find more information on the Copper M&A landscape in Argentina on the links below.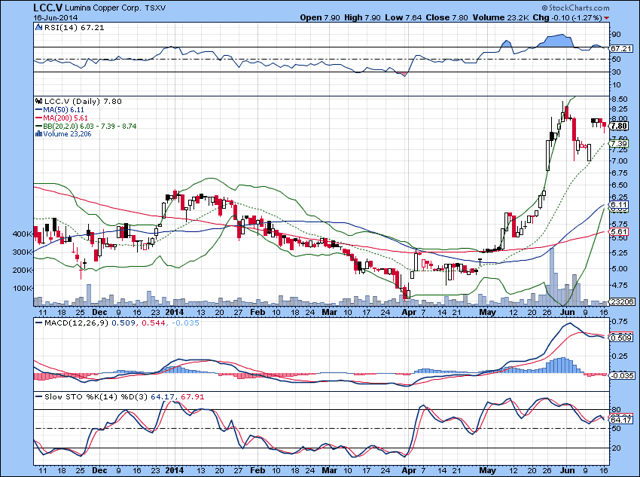 Stockwatch:
"Lumina Copper halted at open2014-06-17 07:54 ET - Halt TradingLumina Copper Corp. has been halted at the open on June 17, 2014, at the request of the company, pending an announcement."
Hot Winter In Argentina: Copper M&A, TNR Gold Los Azules - Lumina Copper Hits 52 Weeks High
"It looks like we can have finally Hot Copper M&A winter in Argentina! Lumina Copper hit 52 week high at CAD7.47 yesterday rising from the recent Low by the end of March at CAD4.60. Please do not get too exited and rush with any decisions here. Yesterday's breakout was on a low volume, but volume was rising in the last few weeks. Read More."
TNR Gold Los Azules Copper M&A: Barrick Gold Strikes Deal With Pascua-Lama Mine Opponents
"We have another very important confirmation that Barrick Gold is very serious about the re-start of its huge Pascua Lama mine building on the boarder of Argentina and Chile. All recent activity makes me think that somebody is more than likely is ready to support Barrick in this project with the capital and maybe even part of the Chinese market demand. All these developments are very positive for mining in Argentina and Lumina Copper advance demonstrates what potential assets re-pricing does really mean in this market environment. Reuters reports: "Barrick Strikes Deal With Pascua-Lama Mine Opponents." Please carefully read my legal disclaimer and do not apply any of this information to any particular security or make any investment decisions. Now we have both of our valuation drives moving in the positive direction for TNR Gold: perception of political risk for mining in Argentina and copper prices reflecting Chinese PMI developments.
"May 28 (Reuters) - Canadian miner Barrick Gold has come to an initial agreement with local indigenous peoples in Chile who have opposed its stalled Pascua-Lama mine, taking a first step on what my be a long road to reactivating the project.
Barrick, the world's largest gold miner, halted the gold and copper project on the Chilean and Argentine border last year after investing $5 billion in it.Reuters."
The Art Of War For Resources: How China Fooled The World ... And Will Do It Again - "Surprise PMI Rise"
TNR Gold: Los Azules Copper Project In Argentina - Barrick Gold Seeks To Restart Pascua Lama.
"As you remember, Los Azules Copper project is located in San Juan province in Argentina. Barrick Gold's Huge Pascua Lama project is located in the same province on the boarder of Argentina and Chile. This ongoing development will be very positive for Argentina mining and Los Azules Copper project, providing the potential catalyst to TNR Gold.
"Copper M&A, Mining In Argentina And TNR Gold's Los Azules Copper Back-In Right.
Particularly important for Los Azules Copper Project are the efforts by the government of Argentina "to overturn Barrick Gold's Pascua Lama freeze in Chile." Both projects are located in the same San Juan province in Argentina which is considered to be one of the most mining friendly in the country. You can find more about our Los Azules Back-In Right in the presentation below and you can always contact us to discuss it."
"The sale of our Back-in Right will provide the necessary liquidity and catalyst to all of our group of companies. Rob McEwen has done a great job as Operator developing this project and now Los Azules is at the top of the list of the best copper projects in the world available for sale, according to PI Financial! I would recommend to contact Jim Mustard VP at PI Financial to get more information about Los Azules Copper project and our Back-In Right Asset. Read more."