Please visit my blog for the legal disclaimer, videos and presentations:
http://kirillklip.blogspot.co.uk/2014/07/gold-smells-bacon-sorry-inflation-ready.html#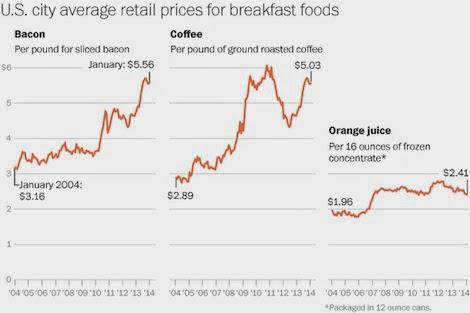 Gold is targeting the very important level these days $1,330, after that we can have the real party. Gold smells bacon or rather sky high prices for food and other non iPad related goods and services. Inflation is real and it is here. Gold can be manipulated, but it cannot be fooled any more.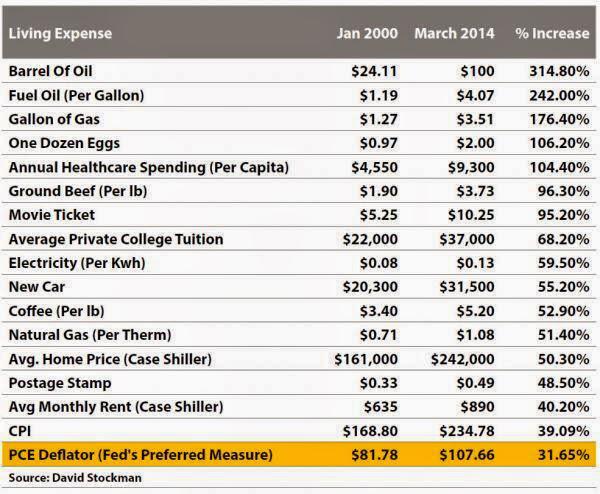 Sufiy: Toby Connor: Gold Charts - Just To Keep Your Spirit High! $GLD $GDX $TNR.v $MUX $ABX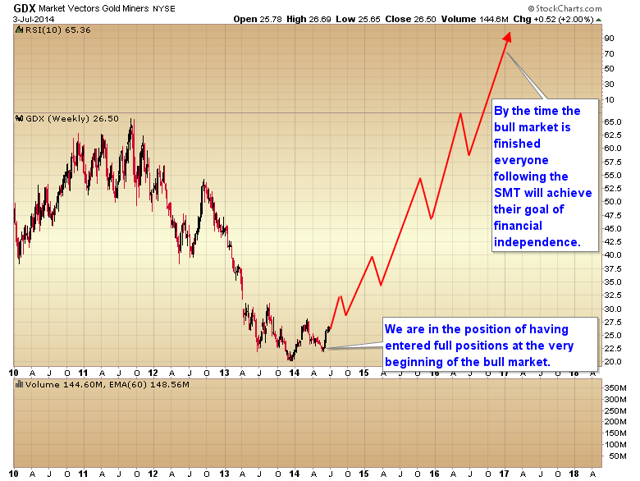 Copper M&A: Lumina Copper Hits Another 52 W High of CAD10.55 As Copper Companies Moving Higher.
"Copper companies are moving higher these days, more fund managers are buying in on the Inflation picking up and IMF report that China will survive "The Downturn to 7.5% Growth". I will have to adjust my numbers for Lumina Copper valuation now. Read More."
Copper M&A: Lumina Copper Hits CAD10.36 - Is Another Bid Coming For Taca Taca Now?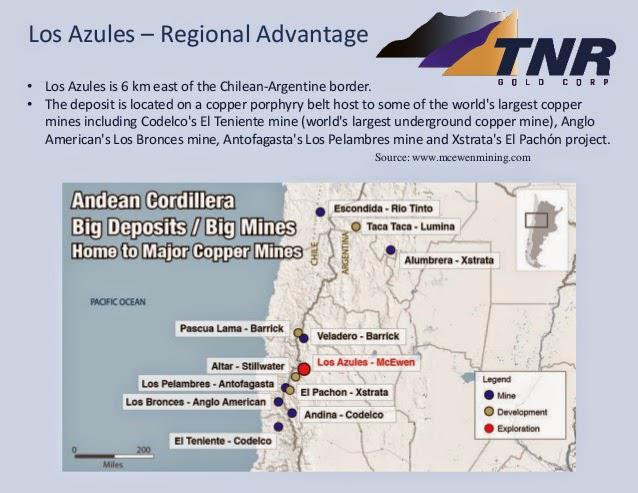 FED Has Found ... Sorry, Created Inflation To Save Us All - Gold Celebrates ... Quietly So Far.
Gold and Silver are acting today like if the Chinese virus "Missing Collateral" has finally reached the London BOE vaults!
Bullish For Metals?! Missing Collateral in China, Follow The Trail of Loans, Copper and Fraud.
FED has finally "succeeded" and Inflation is raising its ugly head. Everybody mortal, apart from the DC and FED System, who has visited at least few times any grocery shop this year knows that food prices are going up. And gas, and insurance, and electricity bills, and ... yes plasma TV prices are going down and iPads, but they are not very tasty for those on food stamps.

We have a positive resolution today in the Head and Shoulder Bullish Reversal pattern, which we have discussed before. Closing above $1,317 this week will be very important. Nobody can manipulate markets forever. Watch the headlines tomorrow: Inflation Is Back - Gold Surges On The FED News.
TNR Gold: Shotgun Gold Project - Why Do We Need New Gold Deposits?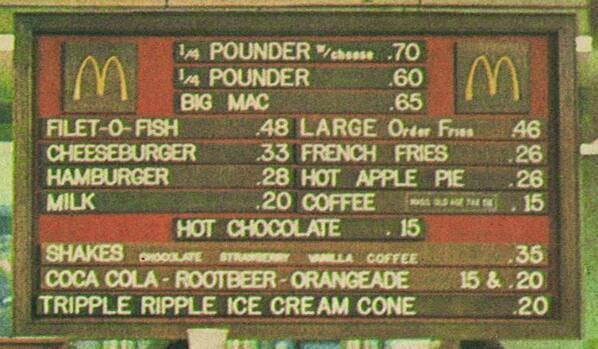 "This picture above is stronger than thousand words written by the FED's hired academics and even Austrian School of Economics - it cuts through the verbal mist to the bone of Inflation definition and what it really means. It means that your FIAT money are losing it purchasing power. It happens every day, day by the day. How much you can see from the McDonald's menu from 70s.

And below is the chart representing "Strong US Dollar Policy" in action implemented by FED from the day of its inception in 1913. Some people even think that Federal Reserve is as Federal as Federal Express, but we will not go that road today.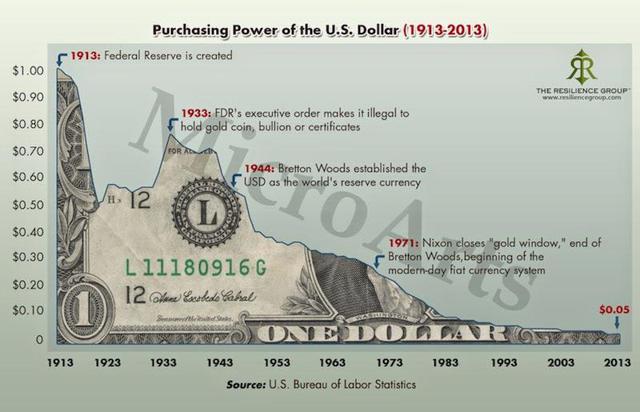 Inflation is the dirty open secret of all Central Banks in the world. It creates the Inflation Tax by gradually stealing from the value of your savings and deflating the government's obligations on all social programs. It is the way for governments to finance wars and "Inflate away" their debts without taxing you "directly". Inflation follows currency debasement - organised by money printing or by QE in the iPad's century - and it is making its dirty work by itself.

Why Gold is so important here? It is the real measure of the rate of Currency Debasement and Inflation: Gold is the Real Money, not dollars. That is why it is manipulated so heavily:
I will address you to James Rickards' books: "Currency Wars" and "The Death of Money" to get more information in depth on these subjects and Gold Manipulation is widely discussed on the web today. Read more."
Investment banks are starting to connect the dots even for the clients, they are themselves all-in long time ago, as I would guess, and announcing that Inflation is ... bullish for Gold.
"Upgrade comes earlier than expected…

Canaccord Genuity North American Portfolio Strategist, Martin Roberge, has lifted his rating on the Gold Sector to Overweight, due to escalating inflation risk.

The upgrade comes slightly earlier than expected as Roberge believes that the Fed is cornered…following stronger-than-expected U.S. CPI on Tuesday and the marked jump in Roberge's CPI diffusion index, Martin believes there is a non-trivial risk that the Fed temporarily abandons its 2% inflation target.

If the Fed is willing to take an inflation risk, investors should buy inflation-protection hedges. Already, bond vigilantes are doing so byfavouring real-return bonds (RRBs) over Treasuries. Inflationary pressures fuel inflation expectations, two positive drivers for the price of gold. Lastly, investors should note that U.S. inflation jitters are brewing while monetary reflation has gone global. World central bankers are in a race to reflate before a global bear market in bonds renders their easing policies impotent.

For those who remember, this looks like 1993 all over again and Roberge further highlights that there are many seasonal factors that could lead to a rally in gold and gold equities in H2/14:

· Golds tend to have a strong H2 in calendar years following a gold rout
· 2014 marks the third year of the gold bear market and the 200-week average sits at $1,500/oz
· Roberge thinks gold stocks are cheap and should protect portfolios in a correction."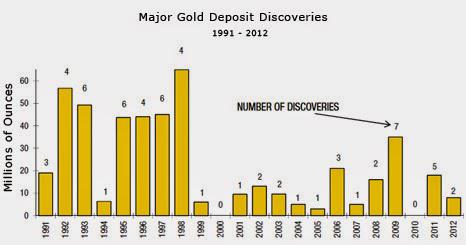 The chart above provides you with idea why we need more Gold deposits now. Even if Major Gold Miners are squeezed on margins and divesting the projects now - it is these industry's fundamentals which will drive this market forward. Falling gold prices are the best cure from the low Gold prices. Gold miners are mining the "Gold Dust" by the 90s standards.

Number of discoveries is going down and will go down even more with Junior Miners struggling to get access to the capital now to develop their projects. Grades and sizes of discoveries are going down as well - easy stuff is all already found or is located in not so friendly places. We have Peak Cheap Gold in place now, whatever the Gold market massaged by BIS will tell you.

China's buying record amount of gold last couple of years will be the very strong confirmation of Gold monetary value and recent pick up in M&A activity provides very important signal for the bottom in this mining cycle:
"China continues its buying spree of copper assets all over the Globe: last month the huge Las Bambas copper project in Peru was bought by Minmetals Group for $5.85 B and now Guandong is bidding for PanAust. Reuters reports on the deal and you can notice how the activity in M&A by Chinese companies is picking up during the "soft market". It is the very important indication of the major bottom in the mining cycle: it is cheaper "to dig" for Copper and Gold on the Stock Exchanges now, when valuations of assets in the ground of listed companies are discounted by the depressed mining markets. "
This is another reason why I personally came into the TNR Gold - Shotgun Gold project in Alaska. Gary Schellenberg and John Harrop - our VP of Explorations, have done the great job over the years exploring this project with Nova Gold and now we have 100% of it and Nova Gold has become TNR Gold's shareholder. After our drilling results in 2012 Greg Johnson the founder of Nova Gold has joined our Board and we have published the first resource estimation on the Shotgun Gold project last May.
It was the first confirmation of my personal dream to develop the important Gold deposit and even if it is still the very early stage of project development, this dream is not limited in size by the resource model at Shotgun Gold project at this time:
"The mineralization style observed at Shotgun Ridge bears a strong resemblance to the 40 million ounce deposit at the Donlin Gold project operated by Barrick and NovaGold," stated recently appointed director Greg Johnson, "The similar age and host intrusive rocks suggest that, with continued exploration, there is significant potential to locate larger volumes of mineralization in and around Shotgun Ridge."
We are working on the corporate structure now, which will allow to develop Shotgun Gold with the potential new strategic partner on J/V basis like we are doing with Ganfeng Lithium in International Lithium. You can find more information in the Shotgun Gold Project presentation below, on our website and give us a call to discuss it at any time.
TNR Gold Shotgun Gold Presentation, Alaska - April 2014 from Kirill Klip
Disclosure: The author is long ILHMF, TRRXF, MUX.