Please visit my blog for the presentations and the legal disclaimer:
China Welcomes Electric Cars: Tesla Motors, China Unicom Plan 400 Charging Stations.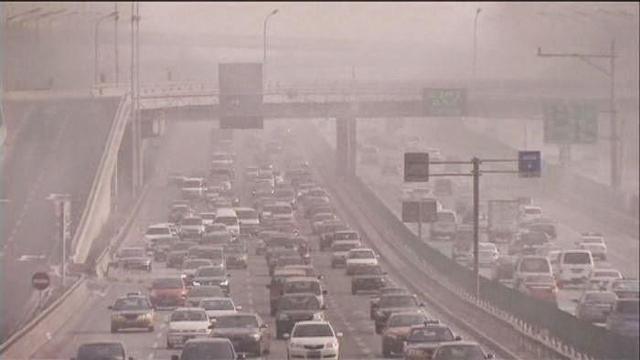 As I have discussed with you here before, Elon Musk is taking the largest auto-market in the world very seriously. Needless to say that this Supercharger Network will be the base for the mass market for electric cars in China. Now we are waiting for Tesla Model III coming out in 2017 with $35k price tag and 200 miles range. Tesla Gigafactory will make this development possible with better and cheaper lithium batteries. After establishing Tesla Motors brand in the luxury sector with Tesla model S and Tesla model X Elon Musk will move down the value chain into the mass market for electric cars.
Foxconn plan for the $15k electric cars is the wild card here, it remains to be seen who will be involved in its implementation, but I can tell you my personal observations already now: Electric Cars are here to stay and they are taking over the largest auto-market in the world right now like the wild fire. If you are still looking for the next Apple: Elon Musk, Electric Cars and China could be pointing out to the Next Big Thing.
Update:
And here is another twist to the story:
WSJ:
BYD Chairman: China Is Weighing Tax to Help Electric-Car Effort"WANG SAYS GOVERNMENT CAN MANDATE CONSTRUCTION OF CHARGING STATIONS"
I will provide a few links for you to find out what our strategic partners are thinking about the recent developments in China in electric cars space and, particularly, with Tesla moving in.
"Mr. Kirill Klip, President, International Lithium Corp. comments, "We are excited to spearhead this international collaboration and program that sets a precedent for sourcing metals that are imperative to the advancement of mobile devices, electric vehicles and alternative energy. The demand for Lithium is continually on the rise and there are shortage concerns which could impede on the growth of the green technology sector worldwide. The Irish government has taken this risk very seriously and pledged to facilitate the advancement of lithium production as part of an initiative to improve strategic metal supply chains. Together with Ganfeng Lithium, ILC has the opportunity to be part of this development and we are optimistic that we have a new potential source for the lithium battery supply chain".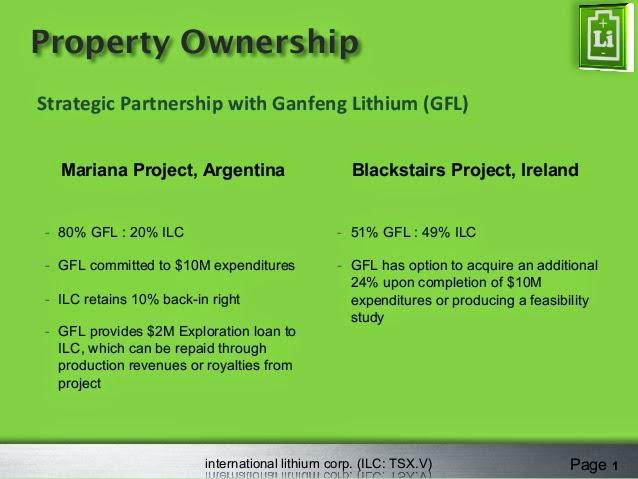 Mr. Wang Xiaoshen, Vice Chairman/ VP, Ganfeng Lithium Corp. notes, "Recent news that corporations such as Tesla and Panasonic are making significant commitments to build gigafactory battery plants will significantly impact the demand for Lithium. Similarly the Chinese market will become increasingly more important to companies like Tesla in the near future. These two reasons make BLL an ideal prospect for the lithium industry."
International Lithium Presentation May 2014 from Kirill Klip
China Rolls Out Welcome Mat for Electric Cars: Ganfeng Lithium Partners with International Lithium in Argentina and Ireland.
Elon Musk With Tesla Gigafactory Starts The Race To Secure Supply Of Lithium Batteries And Lithium.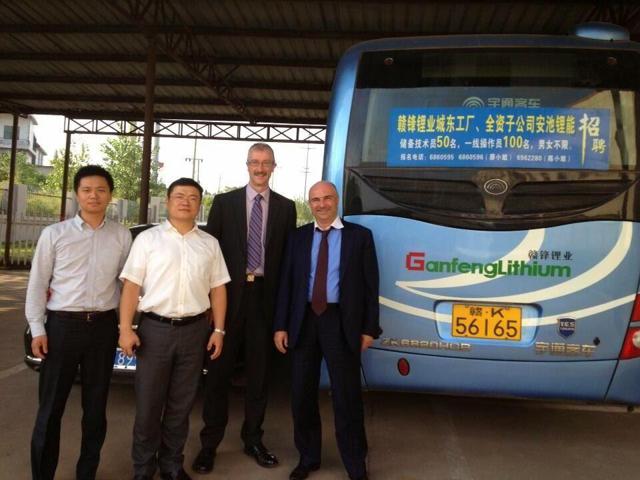 ValueWalk: