Please visit my blog for the videos and legal disclaimer:
Grant Williams: All You Need To Know About Swiss Gold Referendum.
Great presentation from Grant Williams on this groundbreaking event for the Switzerland and the Gold market! We are close to the very important catalyst point for the Gold market now.
The China Money Report: Gold At $7,000 Article Goes Viral In Chinese Media.
The timing of this article is very interesting: we have the upcoming Swiss Gold Referendum, China buys record amount of Gold and there are more voices about US Dollar losing its reserve currency status every day. Nobody knows the future, but it is important to note: "... that most of Chinese economist think that the price of gold should be $ 2,400 / once." Read more."
Koos Jansen: The Chinese Precious Metals Market Is On Fire.
TNR Gold Receives Royalty From McEwen Mining On "One Of The Largest Undeveloped Copper Projects".
First Polls On Swiss Gold Referendum Show 45% Support, 39% Opposing, 16% Undecided.
TNR Gold Shotgun: NOVAGOLD Reports Major Progress in Advancing Donlin Gold up the Value Chain.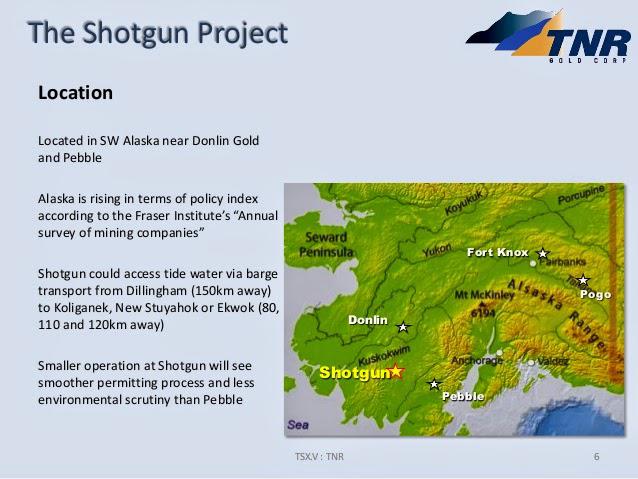 We have the major news for Alaska Gold mining industry from our neighbours - Donlin Gold is moving forward! NOVAGOLD and TNR Gold were developing Shotgun Gold project together and in 2010 our company has consolidated the project and now owns 100% of it. NOVAGOLD has received TNR Gold's shares and warrants. Greg Johnson - one of the founders of NOVAGOLD has joined TNR Gold board after our very impressive results from the drilling program in the Fall 2012. Please watch the video to find out his personal statement: Read more."
TNR Gold Shotgun Gold Presentation, Alaska - April 2014 from Kirill Klip
Disclosure: The author is long TRRXF, ILHMF, MUX.