Los Azules Copper: "Argentina's Mining Landscape Improving, Cerro Morro A Go - Yamana CEO."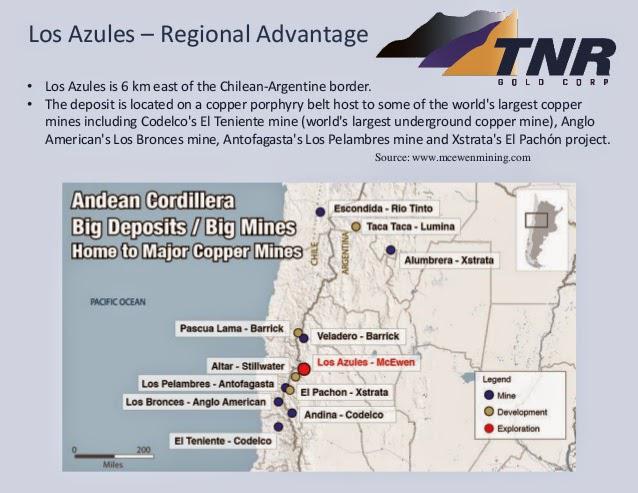 More and more good news are coming from Argentina these days. Country will face elections this year and smart money are already positioning themselves in the best undervalued projects. Nothing should be taken as an investment advise on this blog, please always do your own DD and read my full disclosure.
TNR Gold is very fortunate to have McEwen Mining as its partner at the world-class Los Azules Copper project. With lower copper prices and perception of the investment risk in Argentina all valuations were driven into the ground. The return to the mean could be potentially dramatic as well. Gold Corp will put its new mine into production in Argentina this month, Yamana is moving forward with Cerro Morro and China is solidly on the track to secure supply of commodities from Latin America. I do not know when, but Los Azules Copper will be back on the radar screens of the investors one day and its fundamentals will speak for themselves.
Now you can more appreciate the step by step approach in the development of Mariana Lihium by our J/V with top Lithium producer from China - Ganfeng Lithium. Please stay tuned for the update on our next phase development programmes. You can check more information on the links provided below and in our latest presentations on this blog. Please always consult you financial adviser before making any financial decisions, all latest financial information for TNR Gold and International Lithium can be found in the SEDAR filings and websites of the companies.
Commodities: China To Boost Investment In Latin America To $250 Billion Within Decade.
Los Azules Copper: Canada's Goldcorp To Inaugurate Argentine Gold, Silver Mine In February.
TNR Gold: Los Azules Copper And M&A in Argentina - First Quantum Minerals to Acquire Lumina Copper For $470 Million.
"My expectations have not let me down this time. Lumina Copper is gone for 470 million. Proud people of Argentina can be expecting now the re-rating of risk and increased valuations for other mining projects respectively. My Team at TNR Gold and I will continue to write our story about Los Azules Copper M&A and Mariana Lithium project for our International Lithium.

Los Azules Copper is the next prized asset to be talked about in the industry from today. Read more."
TNR Gold Receives Royalty From McEwen Mining On "One Of The Largest Undeveloped Copper Projects".
Please read our full legal disclaimer in our presentation and on our website: http://www.tnrgoldcorp.com/
International Lithium Corp. Update on Avalonia (Ireland) and Mariana (Argentina) Lithium Projects.
Kitco:
Argentina's Mining Landscape Improving, Cerro Morro A Go - Yamana CEO
By Alex Létourneau, Kitco News
Thursday February 12, 2015 9:47 AM
(Kitco News) - Yamana Gold Inc. (TSX:YRI)(NYSE:AUY) will proceed with the construction of its Cerro Morro project, located in the Santa Cruz province of Argentina, despite reporting a loss in 2014, and the risk involved with mining in Argentina.
The high grade, low cost Cerro Morro project would see life-of-mine annual production of 102,000 ounces of gold and 5 million ounces of silver, with throughput of 1,000 tons per day (tpd). All in sustaining costs (AISC) would range between $547 to $557 per ounce of gold and $7.60 to $7.80 per ounce of silver.
In its first three years of full production, the mine is expected to produce of 135,000 ounces of gold and 6.7 million ounces of silver.
During the company's fourth-quarter and full-year conference call Thursday morning, Peter Marrone, president and chief executive officer, said during the questions and answer period, that he has belief in Argentina.
"You've heard me say before that I think Argentina has an improving socio-economic and geopolitical state, certainly from a mining company's perspective," he said.
Marrone noted the work Yamana undertook in coming to a decision regarding Cerro Morro.
"Initially we thought we would be at 700 tons per day in our feasibility study," he said. "We undertook detailed engineering and further progression of our efforts, and we've come to the conclusion that the most optimal point is 1,000 tpd.
"We're progressing with a single stage plant construction versus the initial plan of a two phased approach," he continued. "We believe this provides lower risk on execution and for the delivery of ounces - it also provides for higher number of ounces.
"The estimated total capital investment is approximately $398 million, of that $133 million is sustaining capital, and $265 million is the initial capital for startup of operations," Marrone said. Read more on Kitco."
Disclosure: The author is long TRRXF, ILHMF, MUX.