Video - The Apple Electric iCar: What You Need to Know.

More information is coming about the Apple's project Titan. Former GM CEO is commenting on the potential move and auto-makers are getting worried. If Tesla was able to break into the auto world, how Apple can potentially disrupt it with its pile of cash, brand and talent?
Is The iCar Apple's Next Big Thing? Should Tesla Be Worried?
Here we have the key to the potential Apple Electric iCar success - the Apple crowd. The power of Apple's brand and its loyal customers can bring us mass market for electric cars very fast. The magic formula will be 200 / 20 - 200 miles range with $20k price tag for the Electric iCar. But Apple can make people buy Electric Cars even with the higher prices!
Can Apple Make The Leap From iPhone To iCar? Is The Partnership With Tesla Coming?
Will Apple buy its way into Electric Cars space? Tesla is "not for sale", but they can be in some kind of partnership with Apple. Apple can outsource the whole power-train to Tesla and concentrate on the design and its brand. Another wild card in all this game is Foxconn - is it building its own electric car or will produce electric cars for Apple like iPhones and iPads?

In any case this is the great validation for the electric cars and Apple will bring the catalyst to our lithium industry. With its cash position Apple can build one of the best R&D teams in lithium batteries in the world and legal battle with A123 is the first indication of things to come.
Apple Wants to Start Producing Electric Cars as Soon as 2020.
Now Bloomberg reports more details about Apple Electric iCar programme. We are getting ready!
International Lithium Corp. and Ganfeng Lithium Commence Work Programs on the Avalonia and Mariana Lithium Projects.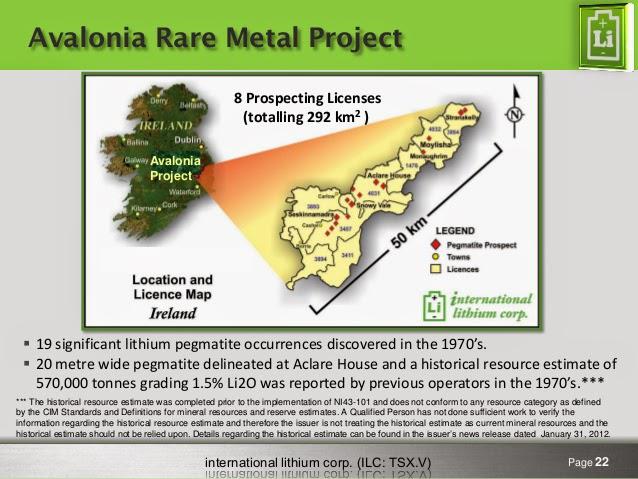 Disclosure: The author is long TRRXF, ILHMF.