Copper M&A: Teck Resources Sees Looming Supply Gap, Looks For Acquisitions.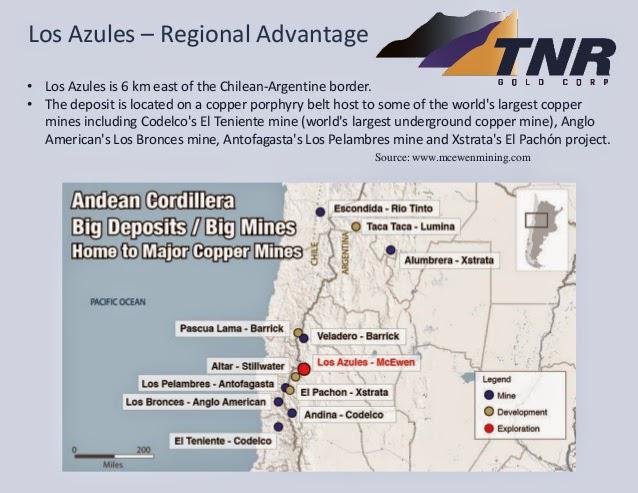 We have very interesting view from Teck Resources on the looming supply gap for copper and report from Bloomberg about the acquisition appetite at this valuations. Copper M&A talks are getting louder now after the news from X2 Resources. Rob McEwen is marketing Los Azules copper and, hopefully, visits to the property will become even more frequent now. At some point the fundamentals of giant copper deposit will speak for themselves.
Copper M&A: Mick Davies' X2 Resources Raises $5.6 Billion, Ready To Buy Up Assets.
"We have the very positive news for the mining sector today from one of the top industry insiders. Capital is available for the best teams and projects and Mick Davies is shopping now. Hopefully this M&A activity will spike further interest in Los Azules Copper as well. Do not read too much into it, but Xstrata was involved in Los Azules Copper at the early stages of this giant copper discovery with Minera Andes. Rob McEwen's comments on timing for acquisitions are already in play in the industry now. Read more."
Rob McEwen: Los Azules Copper - "The Glimmer of Hope for Argentina."
"Rob McEwen was presenting at BMO Capital Markets conference this week. It is the very interesting presentation and you can find it on the McEwen Mining website. The most interesting for TNR Gold was his comment on the recent situation in Argentina. He sees "the glimmer of hope" with the coming elections in October later this year: "Producers are making their enquiries about the Los Azules Copper project and one of them is on the property now."
Please read carefully my legal disclosure and do not get very excited or make any investment decisions based on this public information from Rob McEwen. I personally think, that it is the very encouraging update from Rob on Los Azules Copper status. His view on Argentina and the changing mining landscape confirms the Yamana Gold and Goldcorp news we have discussed before. There is a long way from the any visit on the property to the signed contract, but magnitude of Los Azules Copper will speak for itself one day - you can find more information on TNR Gold website. Higher copper prices will be the catalyst here and today's news from China has ignited 2% rally in very oversold Copper. We will see soon whether it becomes the sustainable trend. As Rob has mentioned: "This is the time to look at valuations for the best projects." Read more."
TNR Gold Receives Royalty From McEwen Mining On "One Of The Largest Undeveloped Copper Projects".
Bloomberg:
Teck Seeks Copper-Mining Acquisition Amid Price Slump
Mining Weekly:
Copper faces looming supply gap - Teck Resources
The level of new copperoutput will be unable to plug a supply gap that could develop as early as 2017, Canadian diversified miner Teck Resources manager for market research Michael Schwartz told an audience at the Prospectors and Developers Association of Canada 2015 convention.
Teck had calculated that the average yearly rate of copper demand growth would reach 2.7% in the coming years. This equated to about 680 000 t of new supply being required each year, a level producers would be unable to match.
This supply/demand fundamental was in stark contrast with copper's performance over the past 12 months, with Schwartz noting that Wood McKenzie had recorded a 300 000 t surplus for 2014. "Although we are showing a balanced market to a slight deficit," he added.
The overhang had been reflected in the red metal's price, which was currently hovering at around $2.65/lb, compared with a 52-week high of about $3.25/lb. Producers with cost-of-production rates above $2.50/lb would continue to struggle, Schwartz pointed out.
Disruption to output, which offered price support depending on its severity, would become an increasingly important issue as the industry mined lower-grade zones in remoter areas. There was also increased jurisdictional risk as governments continued to change policy, seek higher royalties or request companies undertake in-country smelting, as was the case between Freeportand Indonesia.
Schwartz added that supply shortages would be exacerbated by the withdrawal of supply on end-of-life closures or on lower grades mined. "To date, the industry has not been spending anything to change that."
Effective 2016, global mine production would start falling at a rate of about 280 000 t/y. "By 2017, we see markets getting extremely tight. By 2018, we'll need more projects," he advised.
Shifting his focus to smelting, Schwartz noted the ramp-up of global capacity, particularly in China. Indonesia is also legislating for more smelting, while notable increases in Indian capacity could also be expected. "This is likely to put pressure on [treatment and refining charges in future]."
Because of its increased capacity, the level of cathode imports into China had dropped, while the level for concentrates had risen, Schwartz added.
The concentrate market had also started to divide into two tiers, with higher-quality concentrate commanding a widening premium over lower-grade material that contains greater levels of arsenic or other deleterious elements.
Overall, China would continue to drive the increased demand for copper. And although the rate of gross domestic product growth was slipping, the levels involved still represented a vast amount of metals uptake; the country continued to develop and build extra infrastructure.
Away from China, the US recovery was gathering pace, with the country likely to want more red metal. India was also waiting in the wings, with all of its immense but latent potential.

"
Disclosure: The author is long TRRXF, MUX.