Video - Copper and Lithium: Energy Metals - Kick-Off Visionary Panel Discussion On Solar Energy.

Great energy on this panel discussion. Find the macro trends driving the future in energy. You will be surprised by the incredible growth in Solar Energy and the drivers behind it. This new growth will be the rising force for Copper and Lithium demand and will make the clean source to power electric cars.
Copper's Bright New Age: Solar Electricity Utility Scale And Electric Cars.
"Copper and Lithium become the strategic metals for the ongoing green revolution. Solar and Wind Energy and Electric Cars will drive the new demand for these metals. Solar Energy is growing very fast all over the world now. Energy Storage will be the next step to ignite this growth. This is the new focus of Elon Musk and his Gigafactory. He will introduce the home storage system based on the lithium batteries in the next few months. Copper will have its special place in this mass scale roll out of distributed energy generation systems with Wind and Solar Power. Integral part of this system - Energy Storage is getting popular now with Elon Musk Gigafactory and Warren Buffet with BYD making the headlines. These Trillion Dollar industries: Electric Cars and Energy Storage will drive the demand for Copper and Lithium in the future. Watch the video."
International Lithium And Ganfeng Lithium: "The End Of The Lithium 'Big 3'.
"Joe Lowry has published a very interesting article about the lithium market, major producers and rising Chinese powerhouses in lithium industry. You can find now more details on International Lithium strategic partner Ganfeng Lithium. Apple Electric iCar and Warren Buffet BYD move into energy storage to chase Elon Musk with his Tesla Gigafactory bring Lithium back onto the radar screens of investors now. Read more."
International Lithium Corp. and Ganfeng Lithium Commence Work Programs on the Avalonia and Mariana Lithium Projects.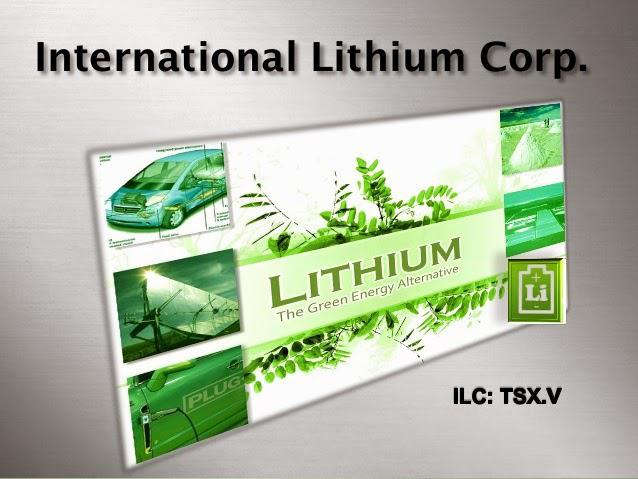 Disclosure: The author is long ILHMF, TRRXF.