Video - Electric Cars: A Day in the Life of Sir Richard Branson at the Miami ePrix.
Now we have the huge market for EVs, dramatically sliding lithium batteries costsand brilliant minds investing in the future. Elon Musk with Tesla Motors, Warren Buffet with BYD, James Dyson and Richard Branson with Virgin have joined the Lithium Club. It is the great energy and Richard Branson has the ability to reshape the industries like nobody else. Apple iCar is only adding to the fire and buzz about electric cars these days. Richard Branson has started the Lithium Fever in London already and International Lithium is back on the funds and investor bankers circuit now. New people are coming to study our sector and the best projects and companies will find their audience again. Top lithium producer from China with 1.2 B market cap Ganfeng Lithium is financing our J/V projects in Ireland and Argentina . With our teams on the grounds we are moving fast forward in the development of potential raw materials supply for our strategic partner.
Richard Branson On Tesla Competition And Battery Technology.
Richard Branson is promoting electric cars and Formula E. His ability to shake up the industries should not be underestimated.
Richard Branson Says Virgin Working On Electric Cars, Might Compete With Tesla.
Sir Richard Branson is welcomed to our Lithium Club! 2015 EV and Energy Storage space is getting crowded. Warren Buffett with BYD is chasing Elon Musk with Tesla Gigafactory; Sir James Dyson; Apple Electric iCar; Foxconn, LG Chem and Boston Power in China; and now Richard Branson with Virgin. The Lithium space is getting hot now and big names are pouring into the sector. Next Trillion Dollar Growth industry is in the making. You do not have to create the Demand - it is already here, you just have to provide the new mobility solution to substitute ICE powered cars.

Lithium technology is ready, Elon Musk has demonstrated its potential. Richard Branson is already involved in Formula E and knows about green energy and electric cars very well. Now it is time for Brands and Brilliant Minds to disrupt the auto-industry and market the new product to the exciting customers. You already know where I am going: Apple and Virgin are the best in switching the customers to their new products. Read more."
International Lithium And Ganfeng Lithium: "The End Of The Lithium 'Big 3'.
"Joe Lowry has published a very interesting article about the lithium market, major producers and rising Chinese powerhouses in lithium industry. You can find now more details on International Lithium strategic partner Ganfeng Lithium. Apple Electric iCar and Warren Buffet BYD move into energy storage to chase Elon Musk with his Tesla Gigafactory bring Lithium back onto the radar screens of investors now. Read more."
International Lithium Corp. and Ganfeng Lithium Commence Work Programs on the Avalonia and Mariana Lithium Projects.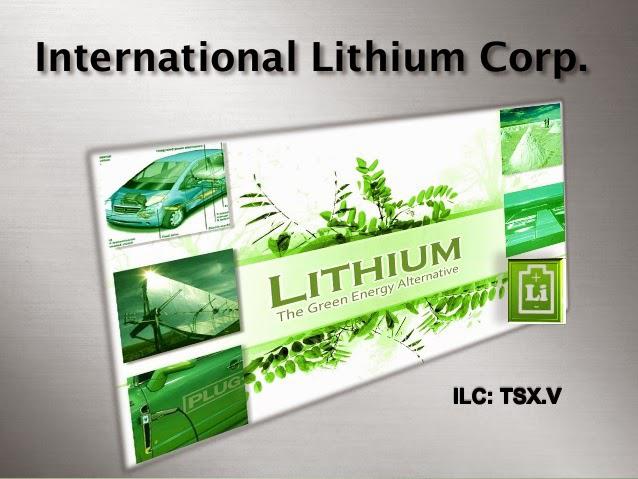 Disclosure: The author is long ILHMF, TRRXF.