Koos Jansen: When Will China Disclose Its True Official Gold Reserves And How Much Is It?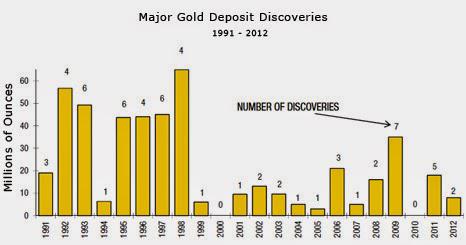 Koos Jansen has published another great investigative article on China's gold demand and reserves. It goes very well with the Peak Gold scenario. Apart from the news making it to the mass media it is very important that real money are buying into it already: China is on track for another record year in Gold demand.
ZeroHedge: Peak Gold? Goldman Calculates There Is Only 20 Years Of Gold Supply Left.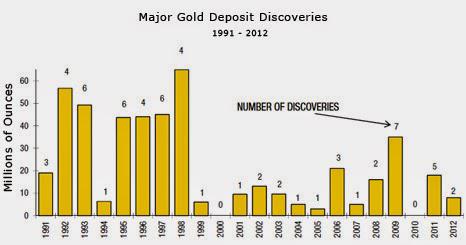 Finally the word is out and multiplied by ZeroHedge. Let's wait when the story will hit mass media now.
Peak Gold: 10 Remarkable Gold and Silver Trends Going Into 2015.
"Gold production is expected to peak in 2015. As the next chart suggests, the discovery cycle peaked some 20 years ago, and that will only reflect as of this year in the production volumes. Combine this with the falling gold prices (currently right below the average cost of production), and the result is a series of liquidations of miners and mining projects which would lead to an even more drastic short-term decrease of gold output. Read more."
TNR Gold: Shotgun Gold Project Development in Alaska.
"Nova Gold has published its new presentation for PDAC 2015. Now you can find more information about Alaska as mining jurisdiction and Donlin Gold type of Gold deposit. TNR Gold owns 100% of Shotgun Gold project in Alaska, which has very similar geology to Donlin Gold, according to Greg Johnson - one of the founders of Nova Gold. Read more."
Koos Jansen:
When Will China Disclose Its True Official Gold Reserves And How Much Is It?
Things are heating up in the Chinese gold market
First let's go through the latest Shanghai Gold Exchange data and then we'll continue to discuss the most recent developments regarding Chinese official gold reserves.
Friday the Shanghai Gold Exchange (SGE) released its trade report of week 11, 2015 (March 16 - 20). Withdrawals from the vaults, which equal Chinese wholesale demand, accounted for 53 tonnes, up 3.91 % from the prior week.

Blue (本周交割量) is weekly gold withdrawn from the vaults in Kg, green (累计交割量) is the total YTD.
Year to date total withdrawals have reached a staggering 561 tonnes, up 7.3 % from 2014, up 33 % from 2013.When using the basic equation for the Chinese gold market to estimate import, we learn that up until March 20 China has net imported 412 tonnes. Add to this India has net imported about 230 tonnes over the same period, that's 642 tonnes combined. I wonder how long the Chinese can keep up this pace of importing before physical supply from Western vaults runs dry.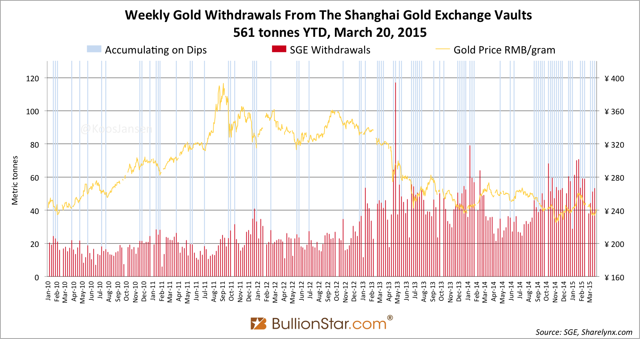 Trading volume on the Shanghai International Gold Exchange (SGEI) has been 32 tonnes in week 11, which could have distort SGE withdrawals by 0.8 tonnes. (Read SGE Withdrawals In Perspective for more information on the relation between SGEI trading volume and SGE withdrawals)
WHEN WILL CHINA DISCLOSE ITS TRUE OFFICIAL GOLD RESERVES AND HOW MUCH IS IT?
Disclosure: The author is long TRRXF, MUX.