Video - Stephen Roach on China, Global Imbalances, Risks and How It All Ends.
China is the key to all commodities markets. Ability to build the consumer driven economy will drive the demand for materials from copper to lithium. Despite of a lot of concerns about the slowdown, China is leading the way in
Solar, Wind and Electric Cars with state-level planning.
It means a lot of copper, lithium and REE will be needed to support this incredible growth.
China M&A In Gold And Copper: Will Zijin Mining Come Back To Barrick Gold On Pascua Lama Now?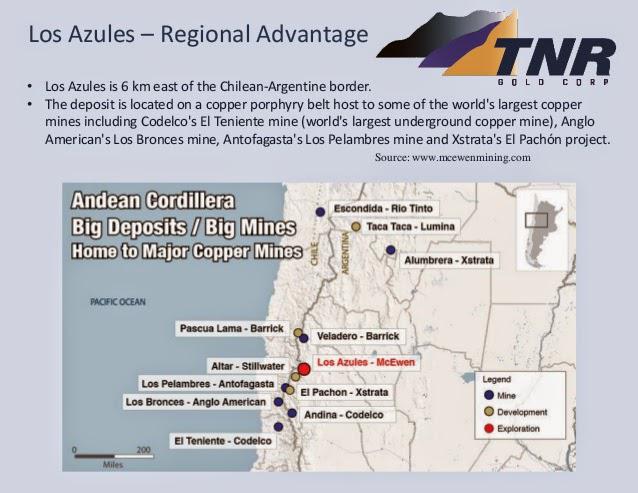 Chinese Zijin Mining is making headlines again with acquisition of 10% stake of Robert Friedland's Ivanhoe Mines. These $105 million Canadian dollars come on top of their investment in 10% of Pretium Resources last December. In November 2014 Barrick Gold was in talks with Zijin Mining on Pascua Lama. Yesterday Barrick Gold has announced that Pascua Lama was cleared in Chile on the glaciers issues, now it opens the doors for another potential Chinese acquisition.
Los Azules Copper is located in the same San Juan province in Argentina and will benefit with further developments around Pascua Lama.
TNR Gold Los Azules Copper M&A: Barrick In Talks With Chinese Miner Zijin On Pascua-Lama Investment.
Copper M&A: Teck Resources Sees Looming Supply Gap, Looks For Acquisitions.
We have very interesting view from Teck Resources on the looming supply gap for copper and report from Bloomberg about the acquisition appetite at this valuations. Copper M&A talks are getting louder now after the news from X2 Resources. Rob McEwen is marketing Los Azules copper and, hopefully, visits to the property will become even more frequent now. At some point the fundamentals of giant copper deposit will speak for themselves. Now we can better understand the TECK Resources talking about "the looming supply gap." TNR Gold is very well positioned with its Los Azules Royalty and Bonus on Sale with McEwen Mining to participate in this trend.
Copper M&A: Mick Davies' X2 Resources Raises $5.6 Billion, Ready To Buy Up Assets.
"We have the very positive news for the mining sector today from one of the top industry insiders. Capital is available for the best teams and projects and Mick Davies is shopping now. Hopefully this M&A activity will spike further interest in Los Azules Copper as well. Do not read too much into it, but Xstrata was involved in Los Azules Copper at the early stages of this giant copper discovery with Minera Andes. Rob McEwen's comments on timing for acquisitions are already in play in the industry now. Read more."
Rob McEwen: Los Azules Copper - "The Glimmer of Hope for Argentina."
"Rob McEwen was presenting at BMO Capital Markets conference this week. It is the very interesting presentation and you can find it on the McEwen Mining website. The most interesting for TNR Gold was his comment on the recent situation in Argentina. He sees "the glimmer of hope" with the coming elections in October later this year: "Producers are making their enquiries about the Los Azules Copper project and one of them is on the property now."
Please read carefully my legal disclosure and do not get very excited or make any investment decisions based on this public information from Rob McEwen. I personally think, that it is the very encouraging update from Rob on Los Azules Copper status. His view on Argentina and the changing mining landscape confirms the Yamana Gold and Goldcorp news we have discussed before. There is a long way from the any visit on the property to the signed contract, but magnitude of Los Azules Copper will speak for itself one day - you can find more information on TNR Gold website. Higher copper prices will be the catalyst here and today's news from China has ignited 2% rally in very oversold Copper. We will see soon whether it becomes the sustainable trend. As Rob has mentioned: "This is the time to look at valuations for the best projects." Read more."
TNR Gold Receives Royalty From McEwen Mining On "One Of The Largest Undeveloped Copper Projects".
Disclosure: The author is long TRRXF, ILHMF.