Video - James Rickards Author Of "The Death of Money" With Glenn Beck: Coming Collapse of the Dollar.
Jim Rickards is being right so far about the economy. Today's ADP report is bad and US Dollar is sliding below 94.00 after confirmation of the Double Top Reversal. Gold is still sleeping below $1,200, but even Janet Ellen has said today "Equity Valuations Are Quite High" during the Q&A at IMF. This situation can change on a dime at any moment.
US Dollar Slides To 95.00 - Confirms Double Top Reversal. Can Somebody Invite Gold To FED's Party?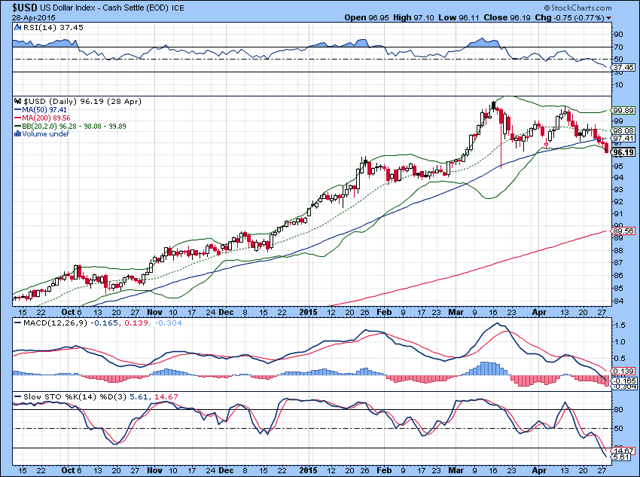 After disastrous GDP number of 0.2% growth with deflator at - 0.1% US Dollar has finally given up and slides to 95.00 level. 96.24 was crossed yesterday and now we have the confirmation of the US Dollar Double Top Reversal. Gold is still sleeping and cannot believe its luck, somebody has to make a call … Gold could be manipulated all day long, but US Dollar will be very difficult to put back on the parabolic move. Now it is apparent that economy in US is nowhere near to the robust growth after unprecedented historical monetary expansion. What will be coming next? Nobody knows, but short squeeze in Gold and Silver will be very nice to have for a change. Party starts after $1,225, but the real fireworks will come after $1,316.
Huge Miss On The Jobs Report And Gold - The Parabolic Move In US Dollar Is Over.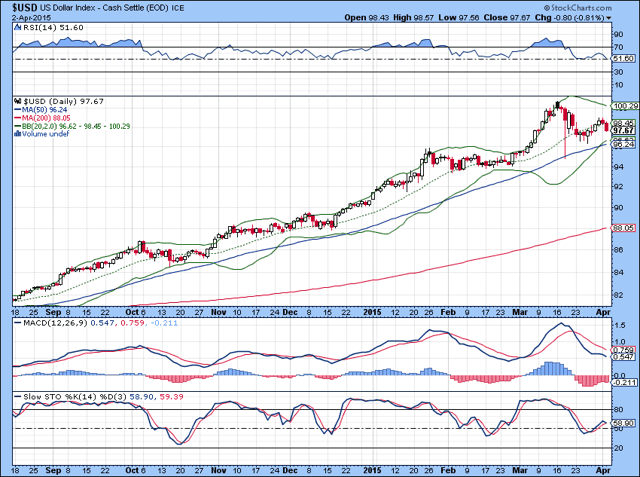 After today's huge miss on The Jobs Report the parabolic move in US Dollar is officially over. With crashing dollar commodities should finally find the bottom. Gold is already printing very strong Double Bottom Reversal, confirming what we had discussed before. Move above $1,310 will bring all the fun back now. Good Friday to everybody who is not short Gold or Euro … Monday will be interesting with Record Short position in Gold.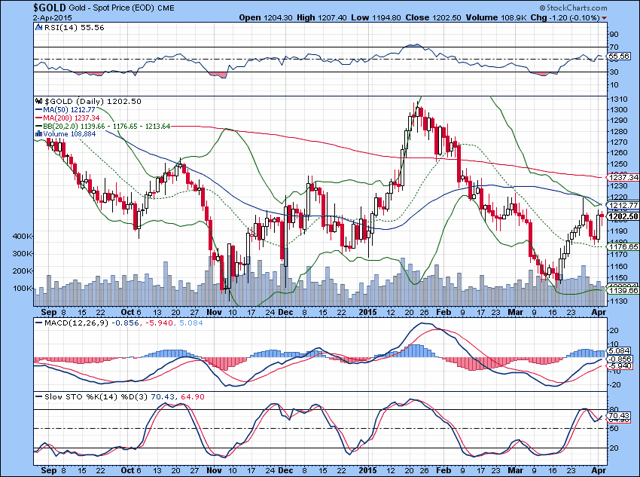 Gold: Is US Dollar Parabolic Move Over?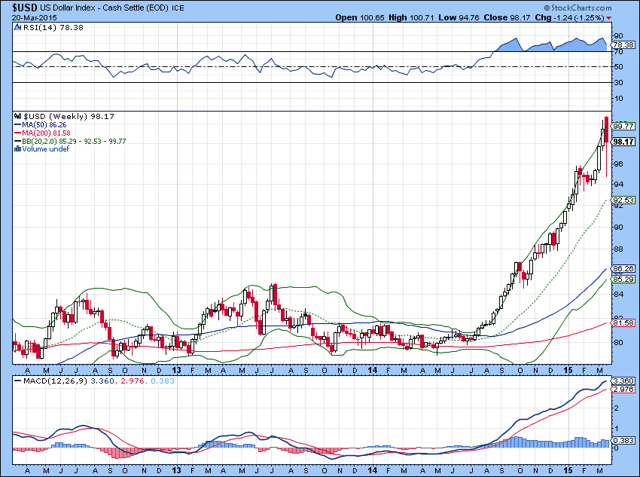 "This is what is called the parabolic move in US Dollar. It has "coincided" with the collapse in Oil and other commodities. You can appreciate the magnitude of this move and the total devastation is has caused in the commodity markets. Is it over now? Everybody is still bullish on dollar, but FED has already scaled back expectations on the rate hike. Immediately we had the dollar flash crash, which is better seen on the daily chart below. Strong dollar is not very good for the recovering US economy, actually FED is in the corner of 18 Trillion debt, All-Time-High markets and the brave idea to hike the rates. Half of the traders maybe have never even seen rising rates in their lives before. What will happen with the market on fire once the oxygen will be going out? I would say that this "removal of patient does not mean that we are impatient" will lead to the very gradual couple of hikes the most. Once the market realise it, this parabolic move will end in the crash. The higher it goes the harder it will go down. When will it happen? I guess that nobody knows, but at least we have the hesitation now, which could be enough for the margin calls on this the most crowded trade after another 5% move down. Read more."
TNR Gold: Shotgun Gold Project Development in Alaska.
"Nova Gold has published its new presentation for PDAC 2015. Now you can find more information about Alaska as mining jurisdiction and Donlin Gold type of Gold deposit. TNR Gold owns 100% of Shotgun Gold project in Alaska, which has very similar geology to Donlin Gold, according to Greg Johnson - one of the founders of Nova Gold. Read more."
Disclosure: The author is long MUX, TRRXF.